Below are detailed instructions for setting up a CNAME in GoDaddy. For a general overview of domains, head over to Setting Up Your CNAME. 
Setting up a CNAME with GoDaddy
1. Log in to your GoDaddy account, and click the My Account button at the top right of the page. From the panel that drops down, click Manage My Domains.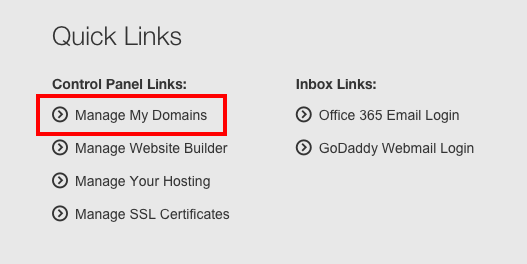 2. Here you should see a list of all your registered domain names, each one in its own "box." Find the domain for which you'd like to set up a CNAME, and click the gear icon located in the upper right corner of the box.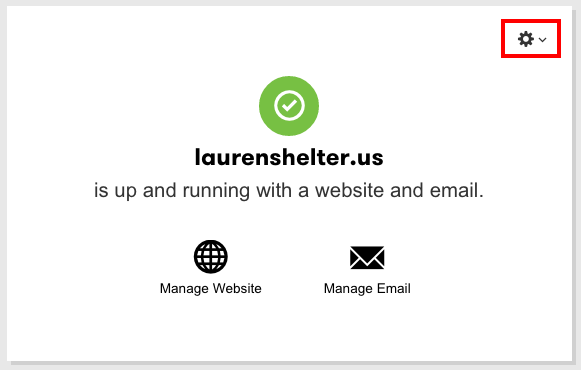 3. From the menu that drops down, select Domain Details.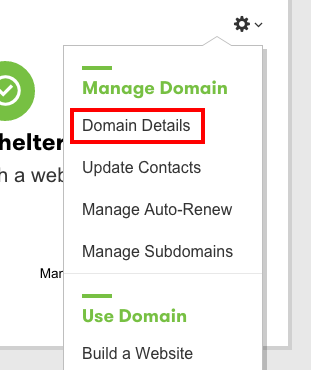 4. Click the DNS Zone File tab.

***We find that most of our members are looking for a CNAME of www.MyDomain.com. If this is your goal, scroll down to the CNAME (Alias) section. You may find there is already a record for "www" (most likely at the bottom of the list).
If there is a "www" record, click the Edit Record icon on the right, then move ahead to step 6.
If there is no record for "www," click the Add Record link. 

5. In the pop-up window that appears, select CNAME (Alias) from the Record Type drop-down menu. You will then be asked to enter a "host" name, which will be the subdomain (or prefix) that appears before your domain itself. Again, most of our members prefer to use the host "www," resulting in a CNAME of www.MyDomain.com. However, the host for your CNAME can be set to any word you like. Other examples include:
If you'd like to use a CNAME of "archive.MyDomain.com", you would set your host to "archive."
If you'd like to use a CNAME of "galleries.MyDomain.com", you would set your host to "galleries."
In this example, we will use "www" for the Host. 
6. In the Points To field, enter "custom.photoshelter.com" (without the quotes) -- not www.photoshelter.com or YOURNAME.photoshelter.com. This is the same address to which every PhotoShelter member's CNAME points, and it does not change, regardless of your own personal PhotoShelter website address.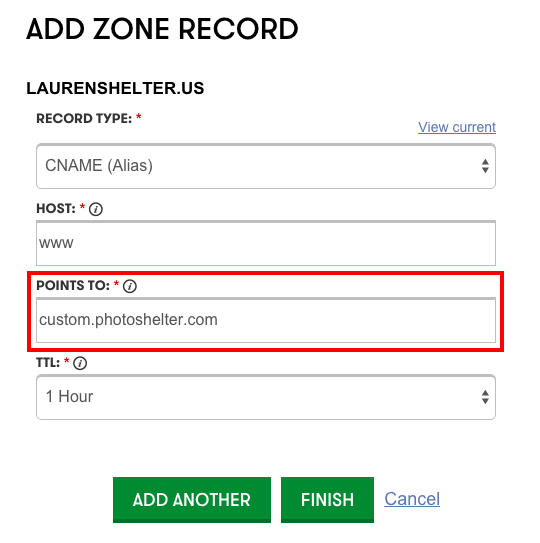 7. The TTL (i.e. time to live) value can remain at 1 hour.  
8. After you click the Finish button to close out this window, you must then also click the Save Changes link back in the DNS Zone File tab. It should be highlighted in red. You will need to do this whether you have created a new CNAME or just edited an existing one.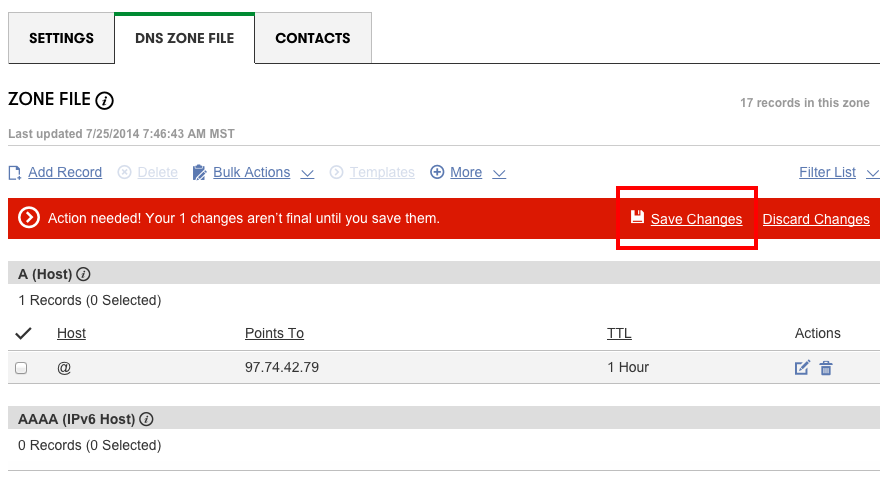 9. Click the Settings tab to the left of DNS Zone File. Once there, look for the Forwarding section, and then click the Manage link under Domain.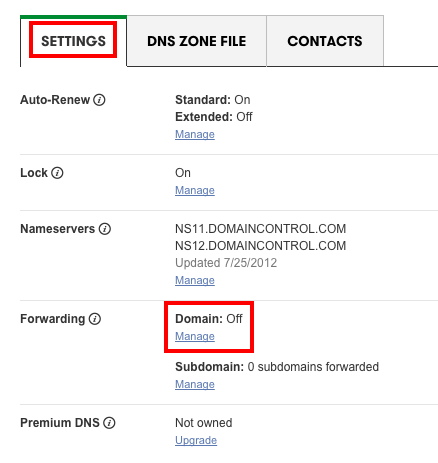 10. In the pop-up window that appears, click Add Forwarding.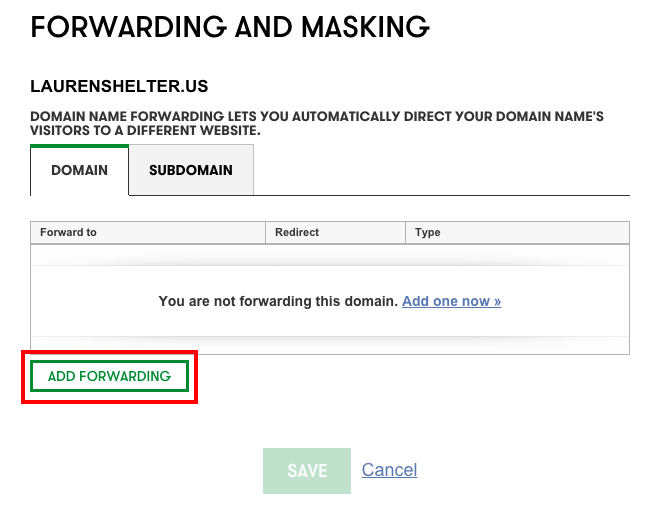 11. Forward your domain to the CNAME you just set up in the previous set (e.g. www.MyDomain.com). This will ensure that your clients will land on your PhotoShelter website whether or not they include the "www" in the address. In this example, we are using the domain "laurenshelter.us," with a CNAME of "www." This means we would place www.laurenshelter.us in the Forward To field.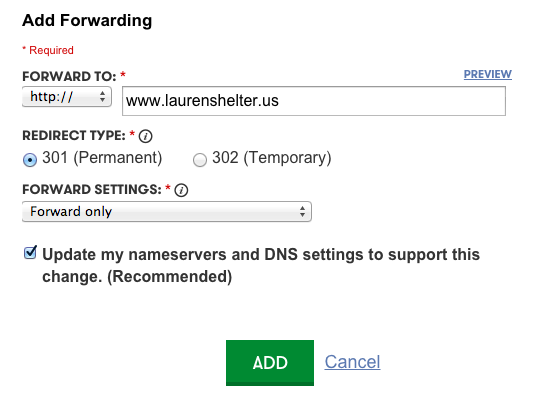 Note: Take this step if you do not plan to use your custom domain for anything but your PhotoShelter website. Be sure to choose "forward only" from the Forward Settings drop-down. (The only other option is to forward with masking, which you should not choose under any circumstances. Masking can conflict with your PhotoShelter website's technology and make it appear "broken" in a number of ways.) 
12. Now, log in to your PhotoShelter account, and select Website > General Settings on the left-hand side of the page. Enter your CNAME into the Custom Domain (CNAME) field. The CNAME is the alias plus your domain (e.g. "www.MyDomain.com").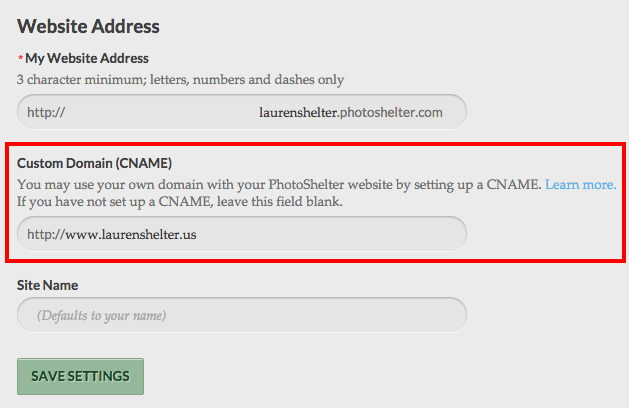 13. Finally, be patient. DNS changes can take up to 48 hours to propagate across the Internet, so if you are unable to enter your CNAME into PhotoShelter shortly after creating it with GoDaddy, please allow a few hours to pass for your DNS changes to fully go through. 
Note: Because all of the work must be performed at the domain level, you should contact GoDaddy Support if you need additional help.