Rights-Managed, or RM, licenses are one of the most common licensing structures in the stock photography industry, as they outline strict usage terms for a fixed amount of time. Clients who purchase RM licenses might include editorial and commercial teams operating in digital and print media spaces, like newspapers, magazines and publishers.
While these license types are not limited to stock photographers, they tend to be more rigid than their counterpart, Royalty Free (RF) licenses. Whereas RF licenses outline a loose agreement for an image in perpetuity, when an RM license expires, licensees must purchase an additional license to extend their use.
The price of an RM license is typically derived from the usage terms agreed upon between the photographer and the licensee. To help PhotoShelter members and their clients navigate RM licenses, we've partnered with Cradoc fotoSoftware's end-to-end licensing calculator fotoQuote®. This integration allows photographers to maximize their creative time by streamlining RM license creation while providing industry-standard pricing for over 360 categories of stock photography and over 10,000 pricing options for prospective licensees.
Creating a Rights-Managed Pricing Profile
Cradoc's fotoQuote® calculator estimates the industry-standard price depending on the usage terms configured in your RM pricing profiles. When creating these profiles, you might opt to configure specific pricing on a per client basis, or create a single pricing profile including all possible sales regions and usage terms. While you can create unlimited pricing profiles, only a single RM profile can be applied to an image at a time.
1. In your account, navigate to "Sell" > "Pricing Profiles."
2. To add a new profile, click "Add Profile" and choose "Rights-Managed."
3. Name your Pricing Profile (the name will not be publicly visible).
4. Provide an internal description for your personal records. This field is optional.
5. Select your file delivery preference
6. Configure your usage terms and regions using the available drop-down menus as outlined in the next section. When you're done, be sure to click "save pricing profile."
7. Now that you have a pricing profile created, you'll need to select what galleries or images that you want to make available for rights-managed licensing. To do so, check out our tutorial on applying pricing profiles.
Note: As licenses are delivered digitally, we recommend requiring a physical shipping address in order for clients to complete checkout. Otherwise, only an email address is required to transact.


Selecting your Licensing Options in the Rights-Managed Pricing Profile
Sales regions and usage terms are divided into categories and subcategories. Click the arrow to the left of each category to see corresponding subcategories, and select categories using the checkboxes next to each option.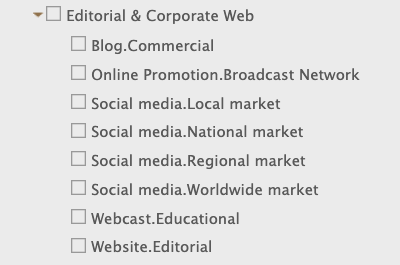 You can be as specific or as broad with these terms as you like, using the arrow to the left of each category to view the full range of configurations available. By checking off a category or subcategory, you are making that licensing option available to your potential buyers.
After configuring your categories, use the "Save & Test" Pricing button to determine the price for a specific license. PhotoShelter will automatically meet fotoQuote's suggested price, but you can adjust your pricing using the percentage field to the right of each category.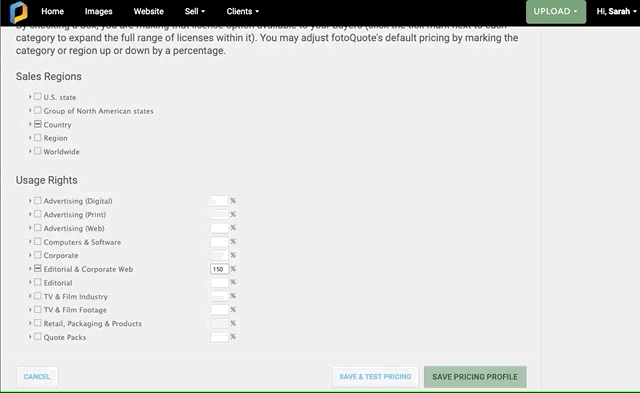 To keep fotoQuote's suggested price, leave the percentage field set to 100%. To increase or decrease the price, use the percentage field to dip above 100% or below 100% respectively.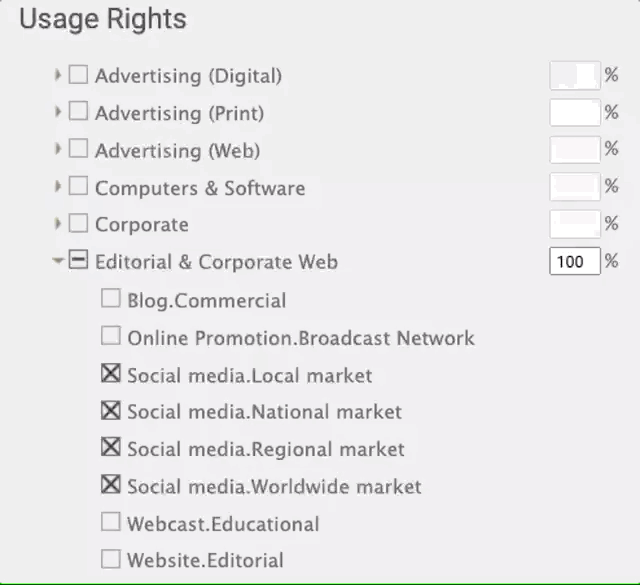 Note: fotoQuote® calculates pricing in U.S. Dollars. PhotoShelter automatically converts and displays prices on your site in the preferred currency selected in your Sales Settings. Daily variances in pricing may occur due to fluctuations in exchange rates.

Quote Packs
Some clients seek to license images with multiple usages in mind. Rather than renegotiating an additional usage license for an image, Quote Packs bundle multiple licenses and usage scenarios together, providing more flexibility for the licensee while protecting your copyright and control of the image.
Quote Packs are only available for select categories and cannot be manually adjusted.


Post License & the Client Experience

Licensees can retrieve downloads for up to 30 days after purchase via their free client account or through your PhotoShelter site's Client Area. For more insight into your client's experience, see our article on Purchasing Downloads & Licensing - for Clients.
Downloads are made available as a ZIP file containing the following:
Image file (Note:

If your pricing profile is configured to deliver high-res JPGs, usage rights are embedded in the image as IPTC metadata)

XMP Sidecar file with usage rights

TXT file with usage rights
If a licensee requires additional time to retrieve purchased downloads, please contact us.
Note: All licensees must agree to the PhotoShelter Licensing Agreement in order to transact. Members can upload supplemental terms as a PDF on the Sales Settings page.

fotoQuote Update Effective 2/1/21
On February 1st, 2021 we released an update to our fotoQuote® integration to match the latest version of fotoQuote's software. In this update, we added 115 new categories and subcateogires to the RM calculator. The table below includes the full list of new categories:
| | |
| --- | --- |
| Category: | Subcategory: |
| Advertising (Digital) | App.Advertising |
| Advertising (Digital) | Direct Mail.Email |
| Advertising (Digital) | Mobile Device.Advertising |
| Advertising (Digital) | PDF.Magazine.Reprints.E-print |
| Advertising (Digital) | Software Advertising.Embedded |
| Advertising (Digital) | Software Advertising.Streaming |
| Advertising (Print) | Brochure.Travel |
| Advertising (Print) | Event Program Content |
| Advertising (Print) | Transit Ad.Bus Side Panel.Interior |
| Advertising (Print) | Transit Ad.Display.Airport |
| Advertising (Web) | Landing page.Local market |
| Advertising (Web) | Landing page.National market |
| Advertising (Web) | Landing page.Regional market |
| Advertising (Web) | Landing page.Worldwide market |
| Advertising (Web) | Web Ad.Commercial.Footage.Local |
| Advertising (Web) | Web Ad.Commercial.Footage.National |
| Advertising (Web) | Web Ad.Commercial.Footage.Regional |
| Advertising (Web) | Web Ad.Commercial.Footage.Worldwide |
| Advertising (Web) | Web Ad.Commercial.Stills in video.Local |
| Advertising (Web) | Web Ad.Commercial.Stills in video.National |
| Advertising (Web) | Web Ad.Commercial.Stills in video.Regional |
| Advertising (Web) | Web Ad.Commercial.Stills in video.Worldwide |
| Advertising (Web) | Web Ad.Infomercial.Footage.Local |
| Advertising (Web) | Web Ad.Infomercial.Footage.National |
| Advertising (Web) | Web Ad.Infomercial.Footage.Regional |
| Advertising (Web) | Web Ad.Infomercial.Footage.Worldwide |
| Advertising (Web) | Web Ad.Infomercial.Stills in video.Local |
| Advertising (Web) | Web Ad.Infomercial.Stills in video.National |
| Advertising (Web) | Web Ad.Infomercial.Stills in video.Regional |
| Advertising (Web) | Web Ad.Infomercial.Stills in video.Worldwide |
| Corporate | In-House Training.Corporate |
| Corporate | Power Point.Paying Audience Presentations |
| Corporate | Slide Show.Marketing.Corporate |
| Editorial | Apps. Corporate |
| Editorial | Apps. Editorial |
| Editorial | Apps. Promotional |
| Editorial | Apps. Retail |
| Editorial | Book.Jacket.Author portrait |
| Editorial | Book.Self published |
| Editorial | Book.Textbook (10 Years) |
| Editorial | Book.Textbook (5 Years) |
| Editorial | Book.Textbook (7 Years) |
| Editorial | CD/DVD.Book.Retail |
| Editorial | e-Book.Textbook |
| Editorial | Exam Papers.Editorial |
| Editorial | Learning Module.Online |
| Editorial | Mobile Device.Editorial |
| Editorial | Test Booklet.Editorial |
| Editorial | Web.Editorial/educational |
| Editorial & Corporate Web | Blog.Commercial |
| Editorial & Corporate Web | Online Promotion.Broadcast Network |
| Editorial & Corporate Web | Social media.Local market |
| Editorial & Corporate Web | Social media.National market |
| Editorial & Corporate Web | Social media.Regional market |
| Editorial & Corporate Web | Social media.Worldwide market |
| Editorial & Corporate Web | Website.Editorial |
| Editorial & Corporate Web | Webcast.Educational |
| Quote Packs | Advertising.All media.Footage |
| Quote Packs | Advertising.Magazine,Newspaper & Web |
| Quote Packs | Advertising.Non Broadcast Media. Footage |
| Quote Packs | Advertising.TV,Broadcast,Film,Internet |
| Quote Packs | All Internal use |
| Quote Packs | Corporate.Non Broadcast media.Footage |
| Quote Packs | Software & All Apps. Advertising |
| Quote Packs | Web & All Apps.Editorial |
| TV & Film Footage | Advertising.Broadcast.Footage |
| TV & Film Footage | Advertising.Cinema.Footage |
| TV & Film Footage | Advertising.Closed circuit.Footage |
| TV & Film Footage | Advertising.Display.Footage |
| TV & Film Footage | Advertising.Internet.Footage |
| TV & Film Footage | Advertising.PSA/TV.Footage |
| TV & Film Footage | Client Pitch.Non-Broadcast.Footage |
| TV & Film Footage | Corporate.Closed circuit.Footage |
| TV & Film Footage | Corporate.External use.Footage |
| TV & Film Footage | Corporate.Internal use.Footage |
| TV & Film Footage | Corporate.Trade show.Footage |
| TV & Film Footage | Direct to video/DVD.Footage |
| TV & Film Footage | Documentary Film.Footage |
| TV & Film Footage | DVD.Bonus material.Footage |
| TV & Film Footage | Editorial.Internet.Footage |
| TV & Film Footage | Editorial.Mobile Device.Footage |
| TV & Film Footage | Editorial.TV news all media.Footage |
| TV & Film Footage | Edu.Exhibit.Non-broadcast.Footage |
| TV & Film Footage | Edu.Lecture.Non-broadcast.Footage |
| TV & Film Footage | Educational.Internet.Footage |
| TV & Film Footage | Educational.Mobile Device.Footage |
| TV & Film Footage | Entertainment.Internet.Footage |
| TV & Film Footage | Entertainment.Mobile Device.Footage |
| TV & Film Footage | Feature film.Broadcast.Footage |
| TV & Film Footage | Feature film.Footage |
| TV & Film Footage | Film festival.Footage |
| TV & Film Footage | Focus groups.Non-broadcast.Footage |
| TV & Film Footage | Live show.Non-broadcast.Footage |
| TV & Film Footage | Mobile Device.Ad.Footage |
| TV & Film Footage | Museum.Footage |
| TV & Film Footage | Music video.Broadcast.Footage |
| TV & Film Footage | Personal use.Non-Broadcast.Footage |
| TV & Film Footage | Political advertising.Broadcast.Footage |
| TV & Film Footage | Political advertising.Cable TV.Footage |
| TV & Film Footage | Social media.Footage |
| TV & Film Footage | Trailer.Footage |
| TV & Film Footage | TV Pilot.Non-broadcast.Footage |
| TV & Film Footage | TV Promo.Footage |
| TV & Film Footage | TV.PBS Show.Footage |
| TV & Film Footage | Video game.Non-broadcast.Footage |
| TV & Film Footage | Webisode.Editorial.Footage |
| TV & Film Footage | Website.Editorial.Footage |
| TV & Film Footage | Website.Promotional.Footage |
| TV & Film Industry | TV On air promotion Broadcast.Stills |
| TV & Film Industry | TV On air promotion Non-Broadcast.Stills |
| TV & Film Industry | TV.Public Service.Non-Profit.Stills |
| TV & Film Industry | TV.Test.Live Test.Stills |
| TV & Film Industry | TV.Test.Photomatic.Stills |
| TV & Film Industry | Video & Film.Documentary.Network |