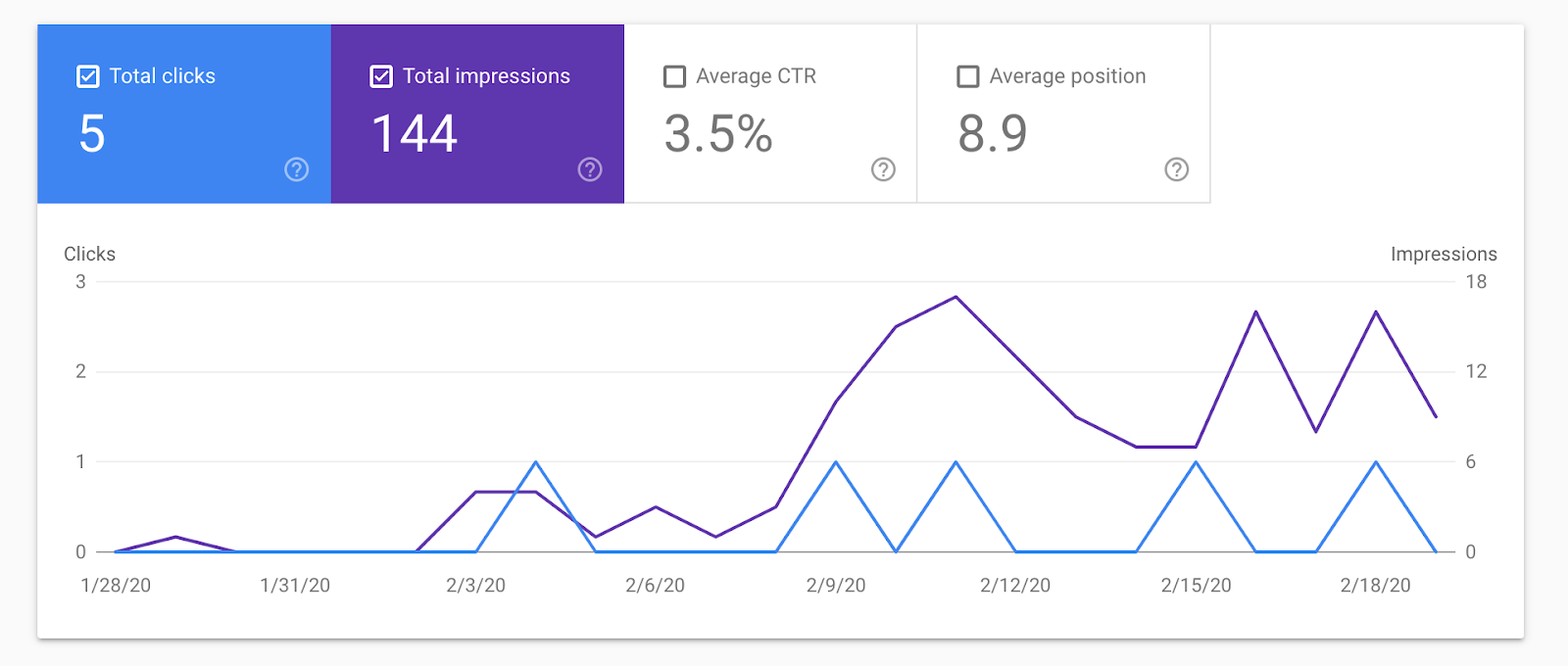 If you're looking to build your search engine optimization (SEO) and rank higher in search engine results, one free tool that helps with this effort is Google Search Console. This tool offers the ability to submit your sitemap to ensure Google knows where to find each website page, check the status of your page indexing, request index updates, and see how your website performs in Google Search.
In short, Google has their own independent database of webpages from all across the internet. This independent database is what Google pulls from to populate search results, so if you want your webpages to appear in Google search, you need to get them in Google's database. This is also referred to as having a webpage indexed. Before Google indexes a page, it will first crawl it, or look over it to confirm it exists and what important content is there. Your sitemap is a page with a list of links to all the pages on your site, so submitting this to Google will make it easier for them to follow the map and index every page.
In the following article, we'll walk you through how to set up Google Search Console and take advantage of these tools.
Note: In this article, we'll make reference to your custom domain and your .photoshelter.com address. Every PhotoShelter site has a .photoshelter.com address, found in the My Website Address field on your General Settings page. If you've set up your site with a custom domain, or CNAME, your site is accessible at both your custom domain and your .photoshelter domain.
Creating your Search Console Account
Submitting your Sitemap
Performance Reports
Index Coverage Report
URL Inspector Tool
FAQ
Creating your Search Console Account
1. To get started, head to Google Search Console: https://search.google.com/search-console/about

2. Click the "Start Now" button. If you're not already signed into a Google account, you'll be prompted to do so.
3. On the next screen, select "URL prefix" as your property type, and enter your website address. For this section, use your .photoshelter.com address, and be sure to include "https://" -- for example: https://template-element.photoshelter.com.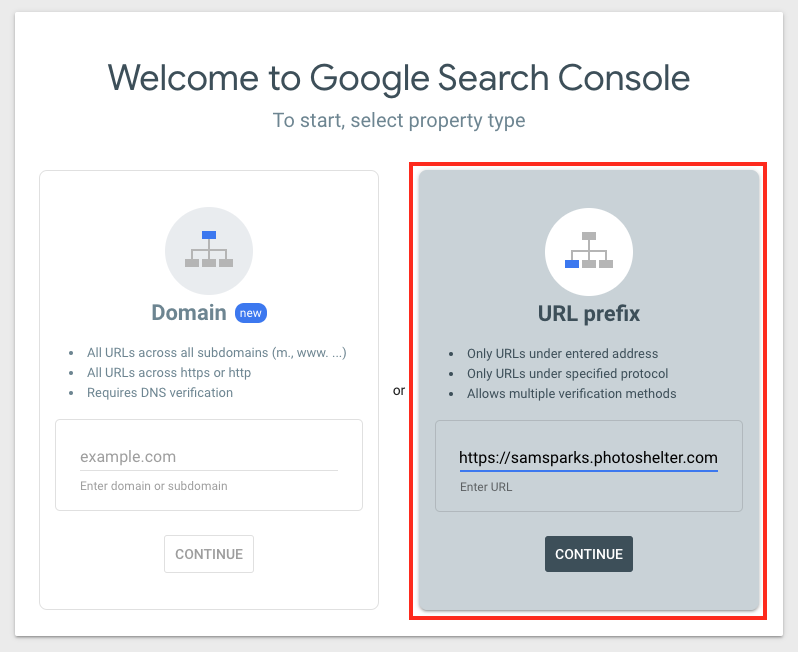 4. On the verification window, scroll down to the "other verification methods" and select "HTML tag":
5. Copy the HTML verification tag provided and keep the window open.
6. In a new window, log into your PhotoShelter account and navigate to the general settings page.
7. In the "HTML Head Code" field on your general settings page, paste in the HTML verification tag. When you're done, click the "Save Settings" button.
8. Head back over to your tab open to Google Search Console and click the "Verify" button. If it doesn't verify right away, you may need to give it a few minutes to propagate before you try again. Once you see an "ownership verified" message, click the "go to property" option.
9. If you have a custom domain on your PhotoShelter site, you'll want to set up a property both for your custom domain and for your .photoshelter domain. This is because your website is still accessible by both. In your Search Console account, click the "properties" dropdown in the upper left corner, then click "+Add property." Repeat steps 2-8 for your custom domain as it appears on your general settings page ("www" or subdomain included). You will end up with two HTML tags in your Head Code: one for your .photoshelter domain and one for your custom domain.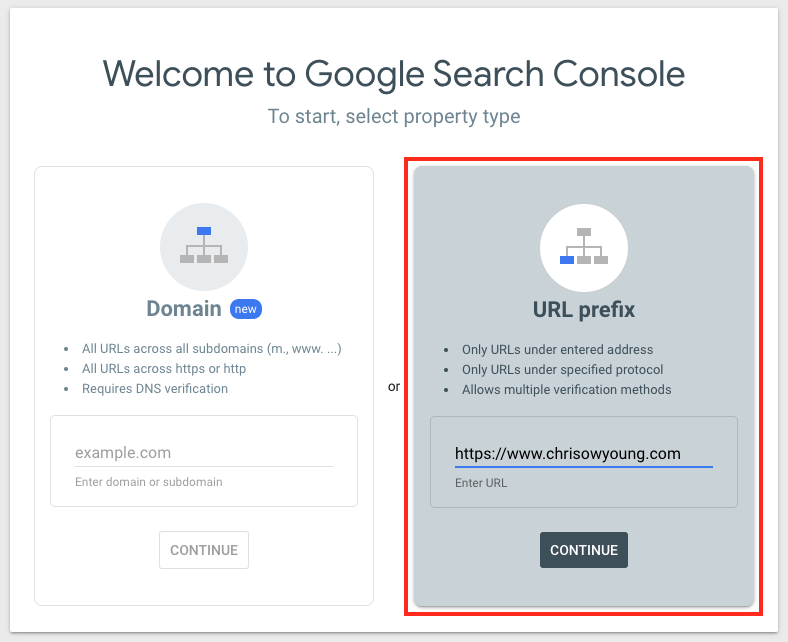 Submitting Your Sitemap
1. Locate your sitemap URL by typing https://yourdomain.photoshelter.com/robots.txt in your browser's address bar and tapping enter (replace "yourdomain.photoshelter.com" with your personal .photoshelter.com address).
2. The sitemap URL will appear on the page that loads. Please note that the image below is just an example and each user's sitemap location is unique:
3. Right click and copy everything after the ".com/" in the sitemap URL. In the example above, you will be copying: user-sitemap/sitemap-U00006zS.xLNcakM/0.xml.gz. If you have multiple sitemaps listed, submit each one individually.
4. In your Search Console account, click "sitemaps" on the left pane and paste in the copied sitemap from step 3.

5. Click "submit" and your sitemap will be submitted to Google.
6. If you have a custom domain on your PhotoShelter site, submit the exact same sitemap(s) for both your .photoshelter.com property and your custom domain property.
Performance Reports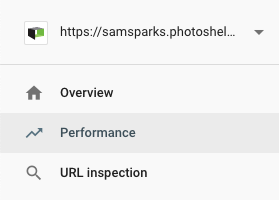 Click "Performance" in the left menu of your Search Console account to view metrics on how your site is performing in Google Search. Here you will be able to specify a timeframe to view real searches that pulled up your site in results, how many times someone saw your site in their search results (Impressions), how many times someone clicked on your site in search results, and more metrics on the location of and devices used by people searching.
Index Coverage Report
The Index Coverage Report gives you a full overview of what pages on your website are currently indexed, what pages have been discovered but not indexed, and why. Google suggests that if your website has less than 500 pages, you probably don't need this report.
Instead, easily see what pages are currently indexed by Googling your website URL with site: in front of it (i.e. site:samsparks.photoshelter.com or site:www.samsparksphotography.com). If you don't see a particular page here you thought would be listed, use the URL Inspector Tool to request indexing of that page.
Easily see what photos on your site are currently indexed by performing the same site: search on Google Images with your .photoshelter.com address (i.e. site:samsparks.photoshelter.com). You must use your .photoshelter.com address, because this address is in each of your photos' web address.

URL Inspector Tool

The URL Inspection tool provides information about Google's indexed version of a specific page, including whether it's been discovered, whether it's been indexed, and if any errors are preventing the page from being indexed.
To inspect a page on your site, type the entire URL of that page (including https://) in the search bar at the top and hit Enter:

Your inspection results will appear on the page. For complete instructions on how to interpret the results, take a look at Google's help article.
Request (re)Indexing
Once you've inspected a URL, you can request that it be indexed or re-indexed. If the Inspector Tool says the page is not on Google, you can click "Request Indexing" to make sure it's queued up for indexing:

If the Inspector Tool says the page is on Google, but you've made recent changes to the page's content or meta title/description, click "Request Indexing" to request that Google update their index per your changes:

Indexing can take up to a week or two; you can check the progress using this tool. If you receive an error after clicking "Request Indexing," please refer to Google's Understanding the Results section.
FAQ

What exactly is a sitemap?
A sitemap lays out the architecture of your website, including its pages and images, in a format that's easy for Google to digest. It will include links to various parts of your site, such as your homepage, about page, public galleries and collection, and your publicly searchable images.

Do I need to resubmit my sitemap each time I make changes to my website?
If you simply changed what's on an existing page, you can use the URL Inspector Tool to request re-indexing with the new changes. If you add new pages or photos to your site, it's a good idea to resubmit your sitemap! Our system will generate and update sitemaps once a week, so it's best to wait a week after you add your new pages or photos to submit your sitemap again.
I submitted my sitemap, but I'm still not seeing my site in Google results.
Please note that there is a difference between submission, verification, crawling, and actual indexing of your website's content. In other words, we can guarantee that your sitemap will be generated and help you submit it to Google, but when Google actually reads it and adds your content to its index is another matter (over which we mere mortals have no control!). Use the URL Inspector Tool in Search Console to request that a specific page be indexed.
Try searching your website URL on Google with site: in front of it (i.e. site:samsparks.photoshelter.com or site:www.samsparks.com). The pages that appear in the results have been crawled and indexed by Google. If they aren't showing on the first few pages of search results otherwise, you'll want to focus on improving your website's SEO. For more on SEO, be sure to check out all our tutorials under the SEO & Google Analytics section.
Why do I have to verify and submit a sitemap for my .photoshelter.com address if I'm using a custom domain?
Although your .photoshelter.com address and custom domain may lead to the same website, Google Search Console sees them as separate properties for tracking. In order to get the full results Google Console is capable of providing, we recommend verifying both web addresses and adding the sitemap for both.