FTP stands for File Transfer Protocol, which is a standard network protocol used for the transfer of computer files between a client and server on a computer network. With a Standard or Pro PhotoShelter account, you can FTP images directly into your PhotoShelter account by setting up a username and password. Standard accounts allow for only one FTP user to be active at a given moment, while Pro account holders have no limit. FTP will also allow you up upload multiple folders from your computer at once.
FTPing Images into Your Account:
1. Log in to your PhotoShelter account.
2. Click the "Upload" menu from the Navigation Bar and select "Incoming FTP."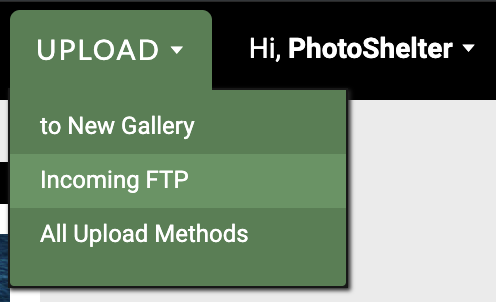 3. On the Incoming FTP page, click on the option to add a new incoming FTP user. If you're setting this up for the first time, the screen will look like this: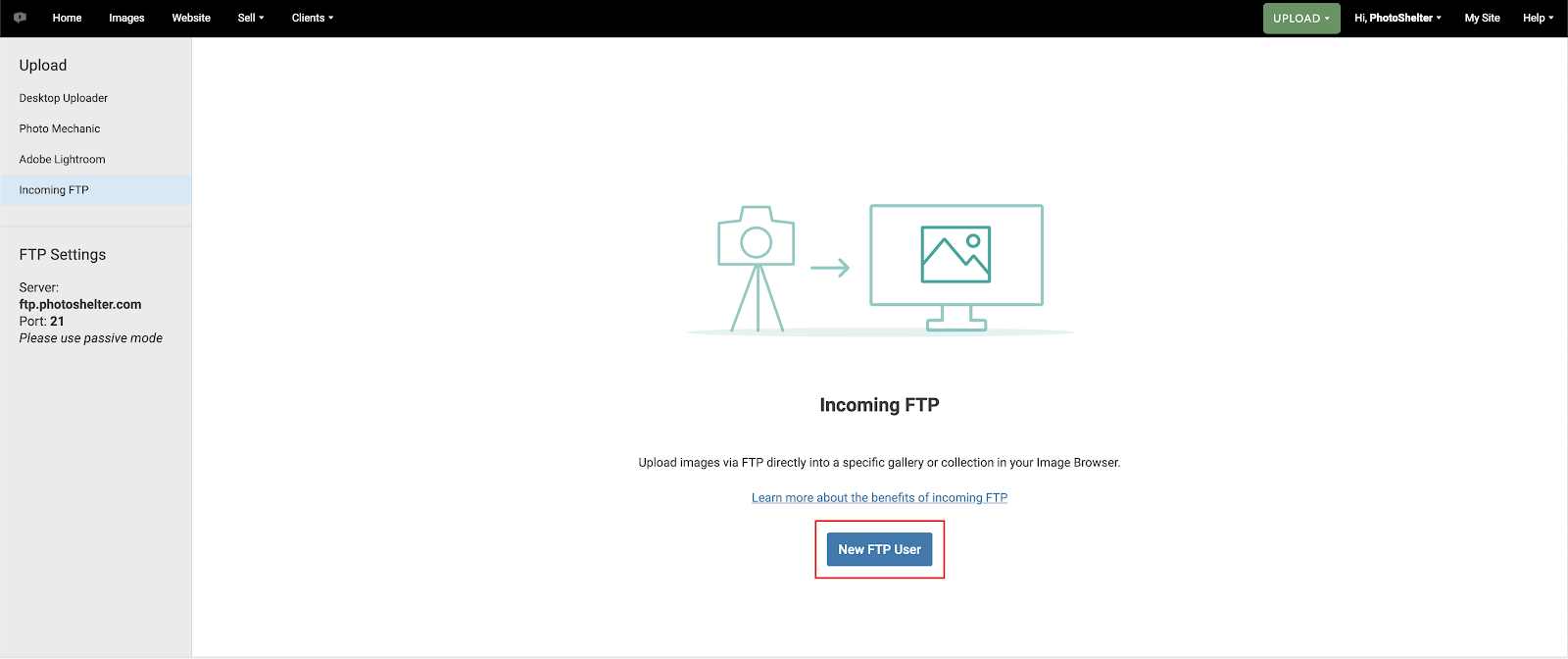 If you have existing FTP users, you can add a new one:

You will be taken to this screen: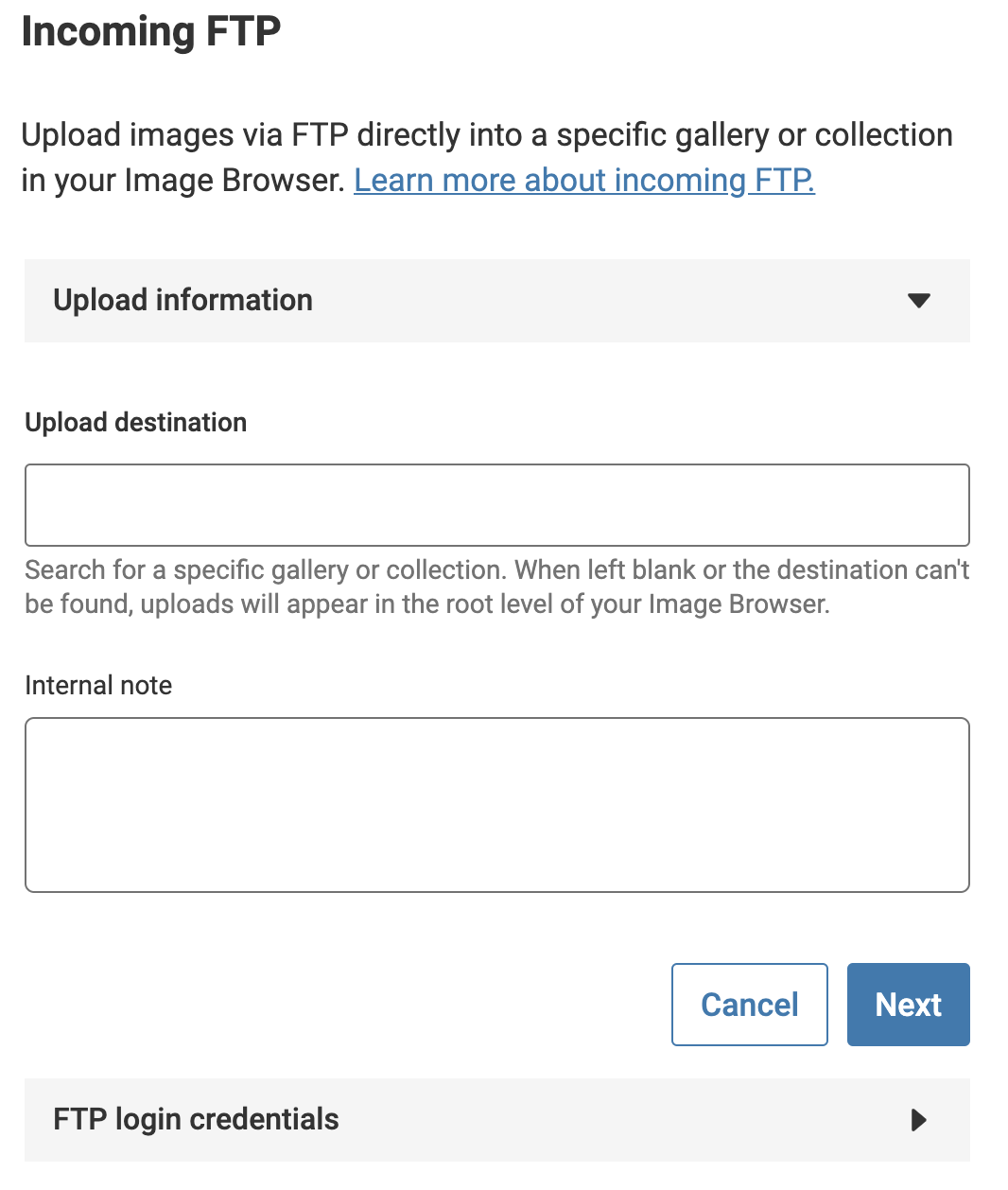 4. Target an upload destination to have all images transferred to a single gallery or a collection. 
If you choose a collection as the destination, the images will be placed in an auto-generated gallery within that collection. Setting a collection as the destination will allow you to upload multiple folders from your computer or hard drive into that collection.

If the gallery you'd like to upload to already exists (even if it is nested in an existing collection), begin typing the name of the gallery and it will auto populate allowing you to select that gallery as the upload destination. You cannot upload multiple folders from your computer or hard drive if you set the destination as a gallery.

If no destination is chosen, we'll automatically replicate the structure on your computer or hard drive in a newly created "Incoming FTP" collection.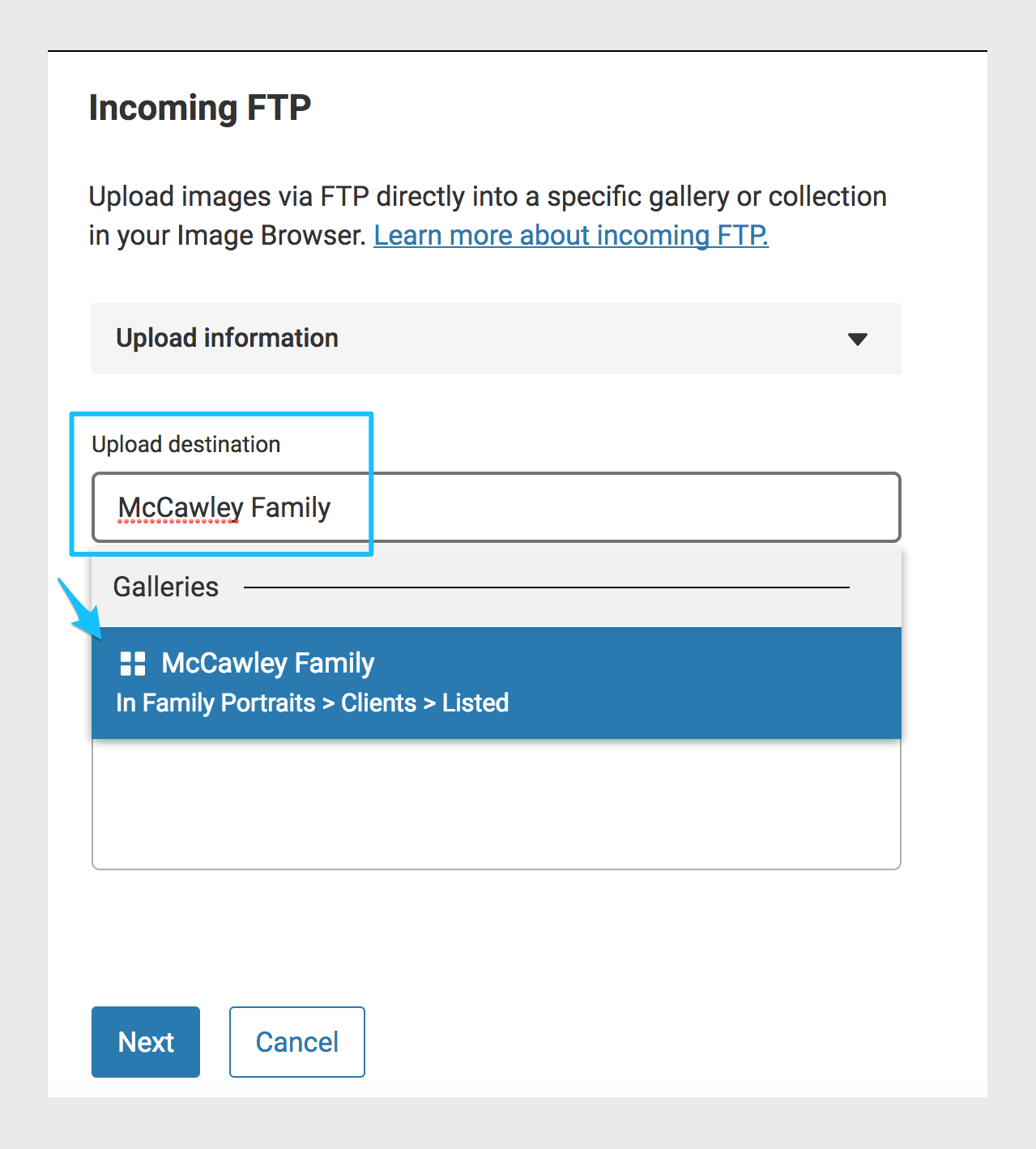 5. Create a username and password. One will be generated automatically, but this can be edited to whatever you choose.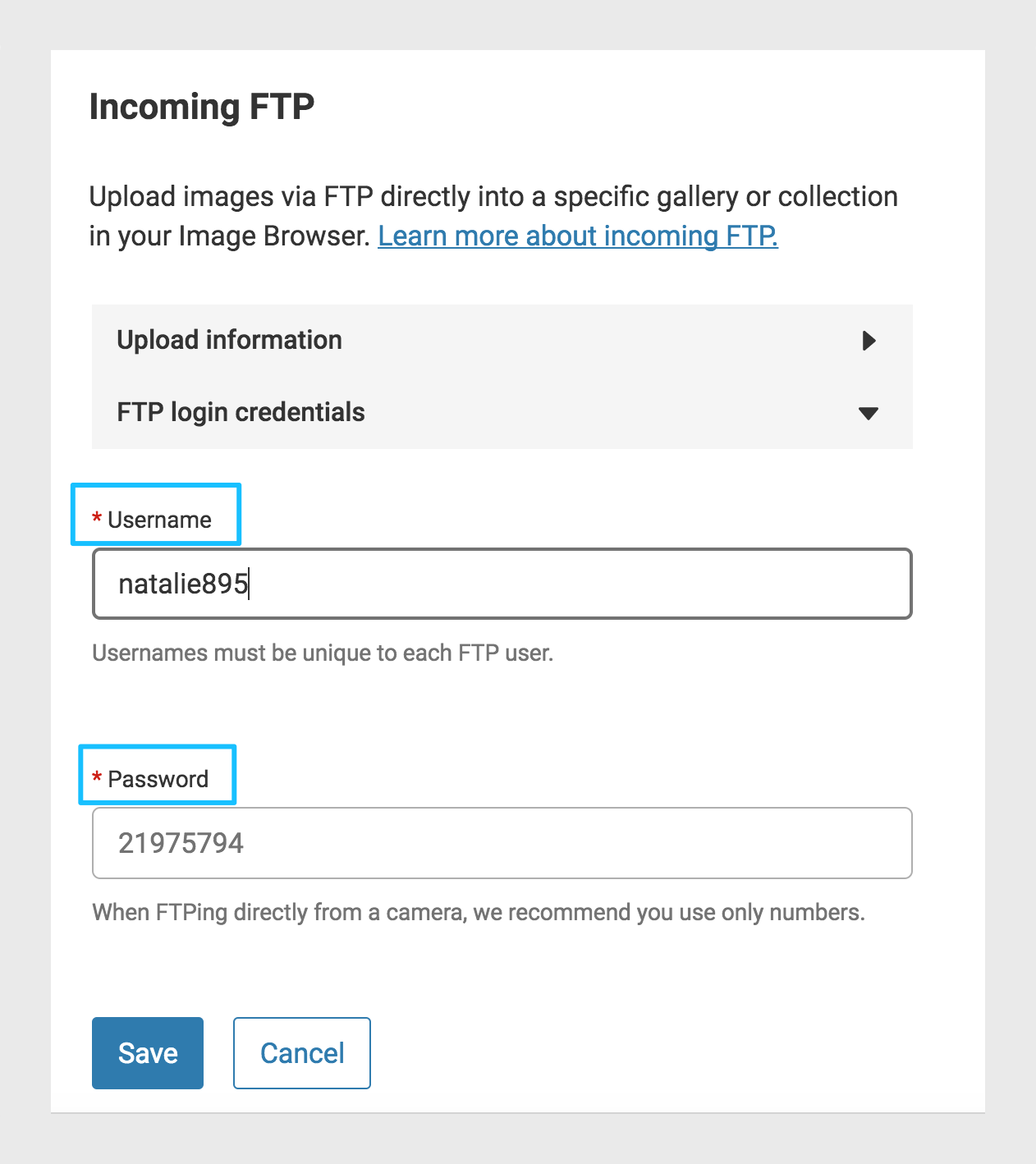 6. Click Save to create the user account. A new window will appear that will let you copy the credentials to your computer's clipboard.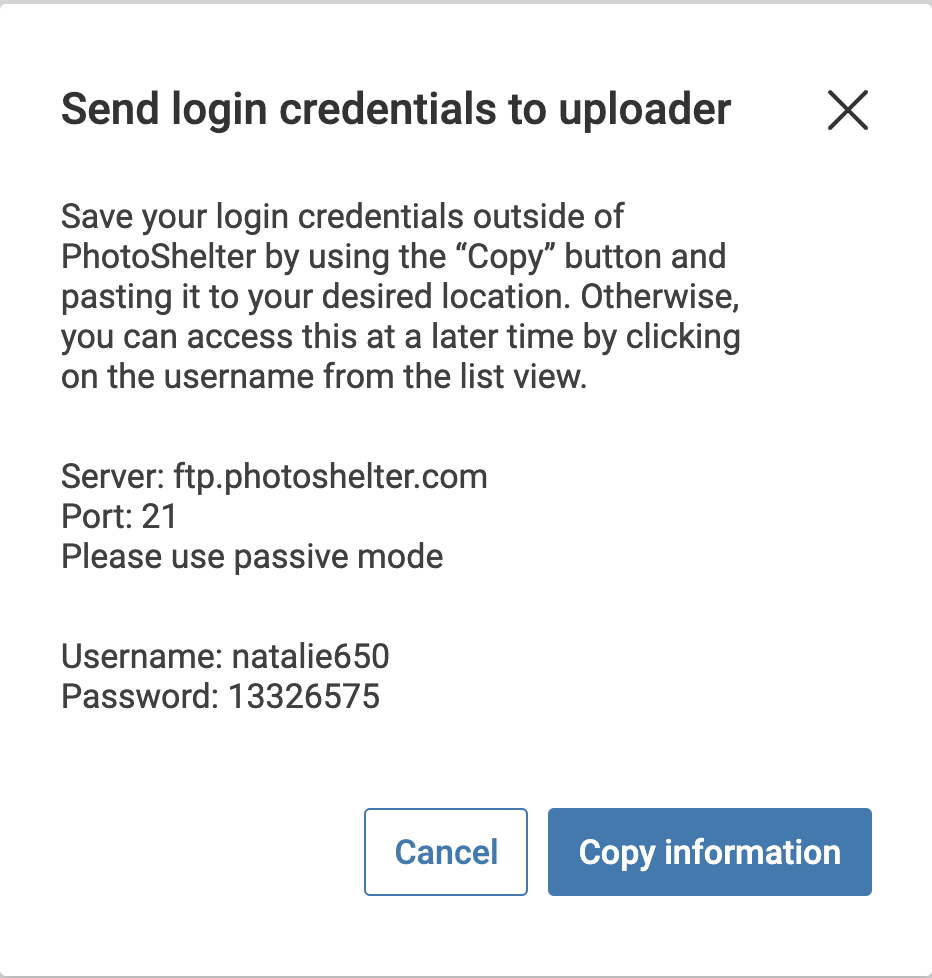 7. Enable your new FTP account. Only our Pro accounts are able to have more than one Incoming FTP enabled at a time. If you have multiple incoming FTPs that need to be active simultaneously, we recommend upgrading to Pro. Otherwise, you can enable the FTP by clicking "Yes" or "No" on the incoming FTP page.

8. In your FTP client (e.g. Transmit, FileZilla, or Cyberduck), set the number of simultaneous file transfers to one. Example: If using Transmit, go to "Preferences" > "Transfers":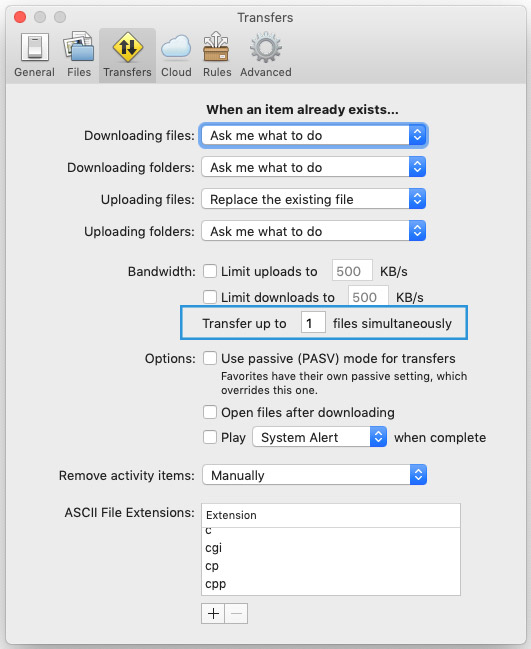 9. Set the server to ftp.photoshelter.com. Enter the username and password that you created on the Incoming FTP page of your PhotoShelter account.  If using the example above, the username would be "natalie650" and the password would be "13326575."
10. Select "File" > "Upload" in the FTP client navigation and select the images for upload. Alternatively, you can drag folders from your desktop directly to the FTP client upload window.
Note: If dragging a folder directly to your FTP client upload window, that folder will also appear within your destination folder on your PhotoShelter site. We generally recommend uploading individual images rather than folders to prevent complicated gallery nesting in your Images Browser, unless that nesting is the desired outcome.
11. That's it! The transfer will begin automatically.