The Invoiced Client feature allows you to designate specific clients with the ability to check out through your website's shopping cart without requiring their billing information upfront. Instead, the buyer is invoiced, and it is then up to you to collect the funds offline, outside of the PhotoShelter system.
The first thing you need to do if you wish for clients to be able to pay via invoice is assign those clients with the appropriate status from within your PhotoShelter account. Only clients to whom you have assigned Invoiced Client status may check out with this option, so you must obviously know who your clients are (and have their email addresses) before you can allow for this ability.
Note: Even if you want all your potential buyers to be Invoiced Clients you must configure a payment processor - PayPal, Stripe, or a merchant account. Our system is configured such that you cannot set up pricing options or even activate your site's shopping cart without linking to a payment processor.
Assigning Invoiced Client Status

1. Select Clients > Address Book from the Navigation Bar. Your Address Book is auto-populated with everyone to whom you have ever sent a gallery or Lightbox invite. (Those users were automatically given free Image Buyer accounts when you sent the invites.) You may also manually add users here by entering the user's email address into the field provided.
2. To manually add a contact, click the Add Contact button at the top of the Center Pane. Enter your client's information and then click Submit.
3. For any Address Book contact to whom you would like to assign Invoiced Client status, select the contact in the Center Pane and then click the pencil icon in the Basic Info section in the Right Pane. Then simply check the Allow Invoicing checkbox, and remember to click the Save button.
That's really all there is to it! Any client with this status set to "Yes" will now be able to purchase images from your website without having to provide credit card information at the point of sale.
The Invoiced Client Experience

A look at things from the buyer's point of view.
An Invoiced Client will add images to your website's shopping cart the same way any other buyer would. (Learn more about What Buyers See.) The difference in experience is in the final stages of checkout. Where a regular buyer would either be asked for billing information or be routed to PayPal to remit payment (depending on how you have your Sales Settings configured), an Invoiced Client will bypass the Billing Info section completely, and will instead just see some text to indicate that their invoiced payment is due.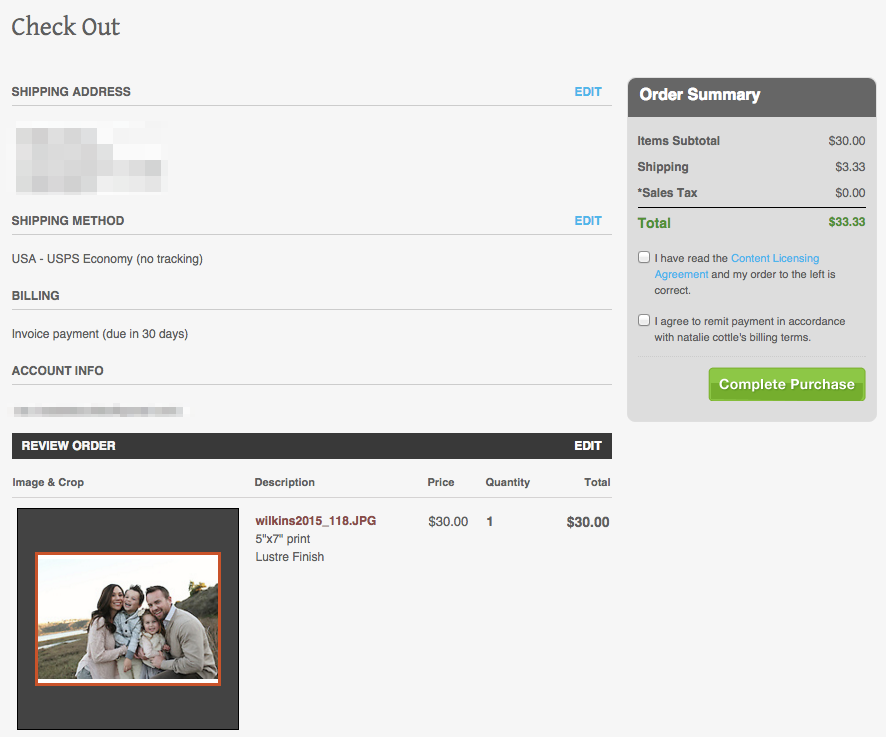 Upon checkout, the buyer is taken to the actual invoice for the sale and is also notified by email so he or she can easily return back to the invoice at a later date for review purposes or to print it for a physical record.
Marking an Invoice as Paid
When an Invoiced Client makes a purchase, you are email notified - the same way you are with any sale made through your PhotoShelter website. The invoice also appears in the My Sales area of your account, where records of all sales made from your site are stored.
1. Select Sell > My Sales from the Navigation Bar.
2. Click on Pending Payment from the left-hand side navigation menu. All orders pending payment will be displayed below.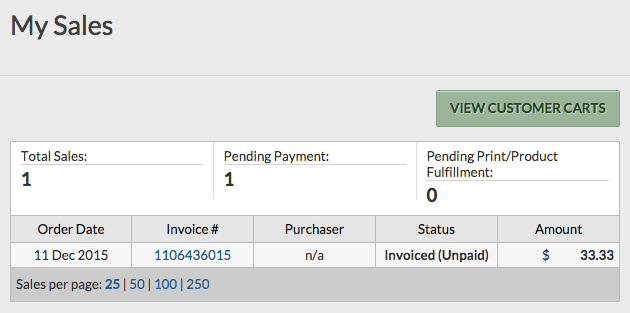 3. Upon clicking on the Invoice number for the invoiced sale, you will see some text at the top of the invoice, similar to what the client sees. The main difference, of course, is that here you have the ability to mark the invoice as Paid once you have received payment from the client offline.
4. Once you click the Mark as Paid button, the status of the invoice will change to Paid.