Place a slideshow of your images anywhere you have access to embed on the web
PhotoShelter allows you to embed slideshows of your galleries anywhere you like on the web -- your blog, your personal website, etc. (You must of course have access to the HTML wherever it is you wish to place your slideshow in order to actually embed the code we provide.)
Popup and ad blockers such Adguard may interfere with the display of the share button illustrated in step 2 of the setup below, so be sure to disable any ad blockers prior to attempting to embed a slideshow.
Building and Embedding a Slideshow
1. From the Left Pane of your Image Browser, select the gallery for which you would like to grab slideshow code.
Note: You must choose a gallery whose visibility is set to "Everyone" (i.e. Who can see this? Everyone).
2. With the appropriate gallery selected, look to the Right Pane and click the share menu > "Embed as slideshow."
3. This will trigger a pop-up window in which you can set your slideshow presets: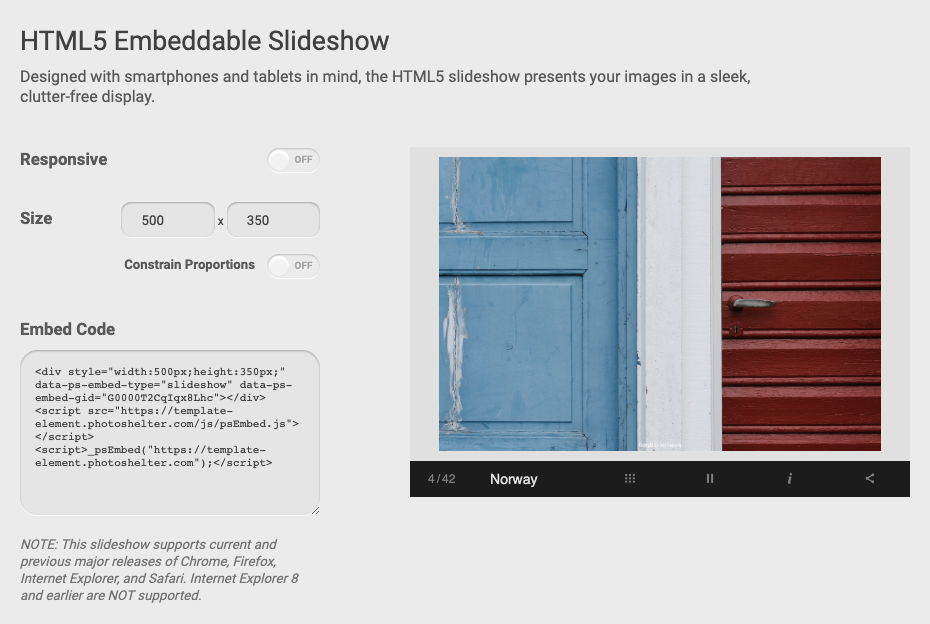 4. Copy the "Embed Code" and paste it into the code on your site and you should be all set!
Note: This code is intended for embedding slideshows on external websites, not PhotoShelter websites.