Our Vimeo integration allows you to display and play videos directly on your site. You can choose to pull in videos from your entire Vimeo account or videos in a specific Vimeo album. The layout of the videos will be controlled by your chosen website template. Some templates, such as Promenade, will display a grid-layout of videos, while others, such as Element, will show videos one-by-one.
Here are the steps to set this up:
1. Locate your Vimeo ID or album ID (now known as showcase ID in Vimeo) that you'd like to use for the feed. To find this, open up your Vimeo page or the specific Vimeo album/showcase in your browser. The last portion of the link will be your ID. For example, our Vimeo URL is https://vimeo.com/photoshelter, so our user ID is simply "photoshelter." If you haven't customized your URL, it will likely be a string of numbers.
2. Once your Vimeo or album ID is copied, enter your Site Builder from the Design & Customize page.
3. Click the blue pencil icon that says "navigation" when you hover over it.
4. On the left, you should see lists of your visible and hidden navigation items. Drag the "video" label up from the list of hidden navigation items and into your visible navigation items list.
5. Click the green save button.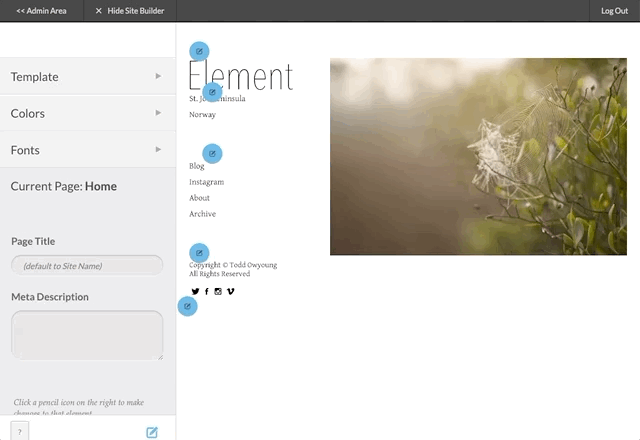 6. Now that "video" is in your visible navigation, navigate to that page while still in the Site Builder.
7. On the video page, click the blue pencil icon that says "Vimeo feed" when you hover over it.
8. On the left, choose your feed source (either all user videos or a specific album). In the user ID field, paste in the ID you copied from Vimeo in step one.
9. Click the green save button. Your videos should now show on the page.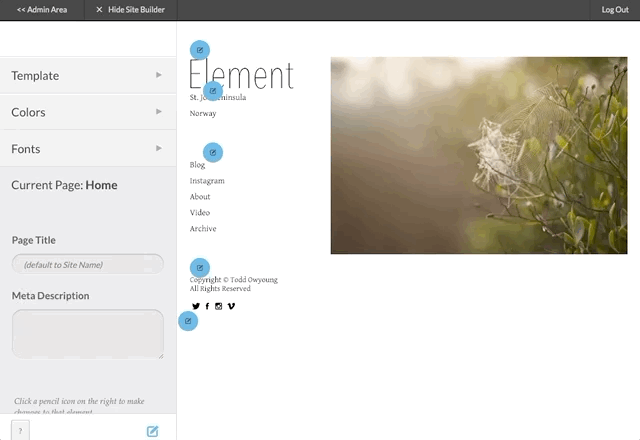 If you don't see your videos after following the steps above, check your privacy settings to ensure that your Vimeo videos are publicly viewable and embeddable. With Pro or Plus Vimeo accounts, you can restrict embedding to certain domains. In this case, you'd want to add your website address to the list of permitted domains in your Vimeo account. If you have a custom domain name that you use with your PhotoShelter site, we recommend that you add that custom domain name as well as your yourname.photoshelter.com URL.