Every gallery and collection has a distinct visibility, controlled by you, which determines who can see its contents. For example, when visitors click on the URL to a given gallery or collection, what happens? Can they freely walk in, do they need to enter a password, do they need to specifically log in as themselves, or is no one but you able to see its contents?
You'll be prompted to choose one of three visibility options for every new gallery and collection you create -- Everyone, Those with permission, or No one but me -- but you can change this visibility at any time, as well as add supplemental permissions via password or login. When editing visibility for an existing gallery or collection, you may get more detailed with the permissions: setting an expiration date for access, assigning passwords and specific people, and enabling downloads (explained separately in this article). You can also hide individual images within a gallery so they are only visible to you, no matter what visibility you have chosen for that entire gallery. More on hiding images at the bottom of this page.
When working with a nested gallery or collection, you may also choose to inherit the visibility and permissions of its parent collection. This is a great time-saver when working with nested galleries/collections that have the same (or some of the same) permissions as their parent.
Note: The visibility of a gallery or collection is a separate setting from whether it is listed or unlisted on your website. This allows you to be more flexible with how your content is delivered and accessed. For example, you may create galleries that are freely viewable to anyone who has the link. Similarly, you could create teaser content on your website by showing just the preview image and require a password to view the rest of the gallery or collection. In addition, an image's searchability from your website is also a separate setting; you can have searchable images that aren't organized in Everyone galleries, and you can have fully public Everyone galleries that don't appear in searches. More on searchability here.
There Are Three Visibility Options
No one but me

Represented by a no symbol. Only you will have access to the contents.

Those with permission

Represented by a lock. This setting requires the visitor to either enter a password or log in to an account to view.

Everyone

Not represented by a symbol. Everyone who clicks on this link may view its contents.
Changing Gallery/Collection Visibility
You can change a gallery or collection's visibility at any time.
1. Select the gallery or collection in the Left Pane.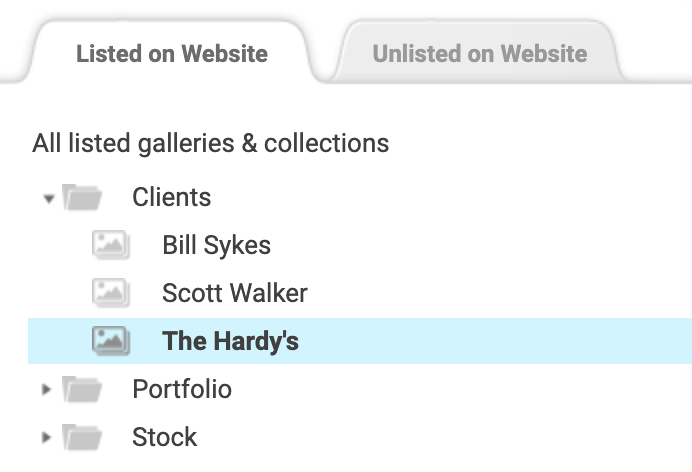 2. Locate the Visibility and Access section in the Right Pane of your Image Browser. You may click the arrow to expand the section in order to view your selection's current visibility (posed as the answer to the question, Who can see this?). To edit, click the gear icon.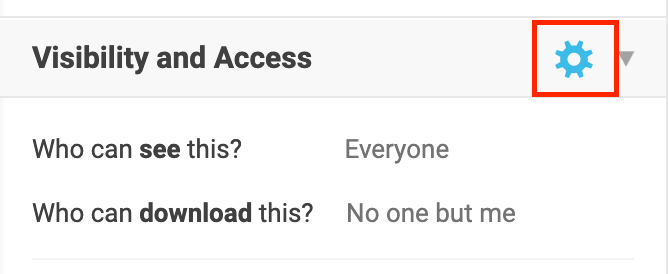 3. You'll see a pop-up box offering a drop-down menu with the three visibility options: Everyone, Those with permission, and No one but me. Select the desired visibility. For Those with permission, you'll need to assign the specific permissions. Continue reading for further instructions.

4. If you've selected a gallery or collection that's nested within another collection, you'll see the option to inherit the visibility of the parent collection. If you'd like your gallery or collection to have the same permissions as its parent, choose the inherit option. This way, you can easily control the permissions strictly from the parent collection, and you'll only have to make changes from this single location. When working with a gallery, you can even inherit the collection's permissions and assign permissions that apply to that gallery alone. Note that even when you choose to inherit, what that really means is, when accessed from within the collection, the gallery will use those same permissions. However, galleries do still have their own "native" permission sets, which are used when a gallery is accessed outside of the collection that contains it (via featured work, for instance). So make sure to be aware of any native permissions that might need changing, before you inherit.
Setting Up Access for Those With Permission
You may grant viewing access to the appropriate visitors in one of two ways: password or login. You may even combine passwords and logins for a single gallery or collection.
Create a password: You create the password, provide it to the appropriate parties, and they'll enter this password after clicking the link to the given gallery or collection. You may use your Image Browser to send the URL and the password, or you may send it to your clients through your own email account -- whatever works for you. Passwords are generally considered to be a lighter form of security, as they are used anonymously and can be easily forwarded along.
Grant access to specific people: With this setting, only specific people of your choosing may view a gallery or collection, and before entering they'll need to log in to a (totally free) PhotoShelter Image Buyer account to identify themselves. If the recipient doesn't already have a PhotoShelter Image Buyer account, they'll be prompted to create one. (To keep this process smooth, we recommend that you send email notifications through your Image Browser -- this way, we can check to see whether the person is in our system already and prompt accordingly.)
1. If you are not there already, access the Visibility & Access window by clicking the Those with permission link that appears next to Who can see this? at the top of the Right Pane. If you do not already have any permissions set up, you'll see two options: Create a password and Grant access to specific people. Click the appropriate option for your first permission.

2. If you've chosen the password option, type the desired password into the text field. This is the password that your visitors will need to access this gallery or collection. If you've opted to grant specific people access, type the email address(es) of the permitted viewer(s) into the field provided. If you've created a contact group in your Address Book, you may also enter a group name here to grant permission to everyone in that group.

3. If you'd like to set an expiration date for this password, person, or group, click the blue linked words None next to the expiration (EXP) calendar.

4. The next field to the right, DL TYPE, determines whether the password, person, or group may download images from this gallery or collection (and if so, in what size and file format). The default is set to View only (which means that no downloads are allowed). More on download permissions here.

5. To notify your clients of their access straight from your PhotoShelter account, which we recommend particularly when granting specific people access, click the Save & Notify button.
6. To send out email notifications to people who have access to the gallery or collection, check the box above the email prompt (if it's not already checked when you get there). In some cases, when working with multiple permission sets for the same content, this pop-up box will have the option to send more than one email message.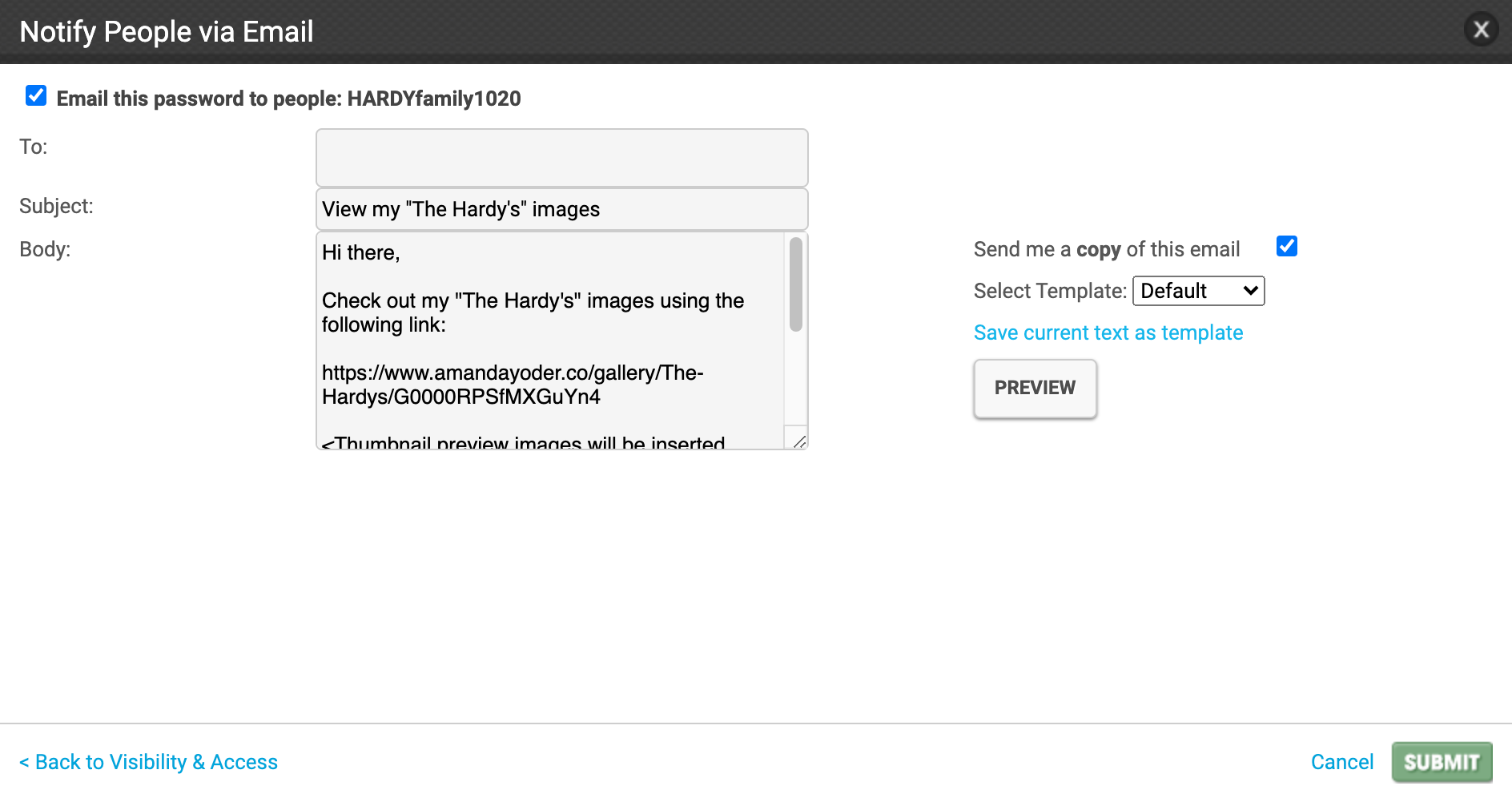 8. Enter the desired email addresses and a subject line into the provided text fields. Note that if you're sending to specific people or groups, you won't be able to edit the email addresses from this screen, although you may exclude certain people from receiving the email by unchecking the boxes next to their names.
9. After reviewing the automatically generated email message and editing it if desired, click Submit, and your emails will be sent.
Batch Editing Visibility
To change the visibility or inheritance of more than one gallery and/or collection at once, look to the Edit visibility & inheritance option within the Actions menu located in the Center Pane.
1. In the Center Pane, select the galleries and collections you would like to edit. To select all, use the blue linked words All at the top of the Center Pane; to make specific selections, hold down the command key (Mac) / Ctrl key (PC) while clicking your preferred selections.
2. From the Actions drop-down menu, select Edit visibility & inheritance. The Edit Visibility & Access pop-up box will appear. Follow the instructions above to edit the visibility or the inheritance behavior for the items in your selection.
Hiding Images
Beyond a gallery/collection's main visibility, you may choose to hide individual images within a gallery. This allows you to organize like content together in a single gallery but also keeps certain images out of the public eye. For example, you can view all images from a shoot in a single gallery within the Image Browser, but hide outtakes from anyone viewing the gallery from your website.
Hiding an image will also exclude it from batch downloads from that gallery.
Note: It's possible for an image to be both hidden and globally searchable, which would allow you to keep your galleries tightly edited but not rule them out of a more specific search a buyer or editor might be making. More on image searchability here.
1. From the Center Pane, select the images that you want to hide.
2. Click the Actions drop-down menu and select Make hidden/unhidden. Hidden images are represented by a closed eye.
Note: To hide or unhide a single image, double-click to enlarge the image, and then click the eye from the Quick Action buttons at the top of the Right Pane