Whether you've just published your client's images to a gallery or simply want to share recent work with your friends and colleagues, PhotoShelter gives you the option -- without leaving the Image Browser -- to send email notifications that contain links to your galleries and/or collections.
The following tutorial outlines how to send an email notification about any collection or gallery in the Image Browser.
Note: When working with visibility and download permissions, in certain cases you'll be prompted to send an email notification, as this is often the best way to ensure a seamless client experience. For more on viewing and download permissions, check out our Visibility and Access tutorial.
Sending Email Notifications through Your Image Browser
1. Select "Images" from the navigation bar to access your Image Browser.
2. From the Left Pane, select the collection or gallery for which you'd like to send an email notification.
3. From the Right Pane, click the share button (looks like "<") and select "Email."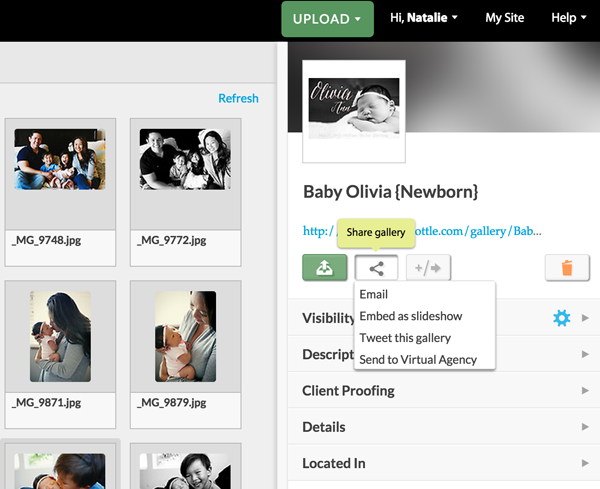 You'll then see this pop-up box, the look of which may vary slightly based on the visibility and permissions of your selected gallery or collection:
4. Type in the email addresses of the people you want to receive this email. If the recipients are already in your Address Book, then you can type in their names and select them from the drop-down (learn more about the Address Book here).
Note: Where you have more than one permission for a gallery or collection, you'll see a separate email prompt for each permission. This way, you can customize messages for groups that have the same level of access.
If you're enabling viewing and/or download access only to those specific people or groups who log in, then their names and email addresses will be pre-populated here. Using the check box next to each person's name, you may choose who will or won't receive an email in this particular send.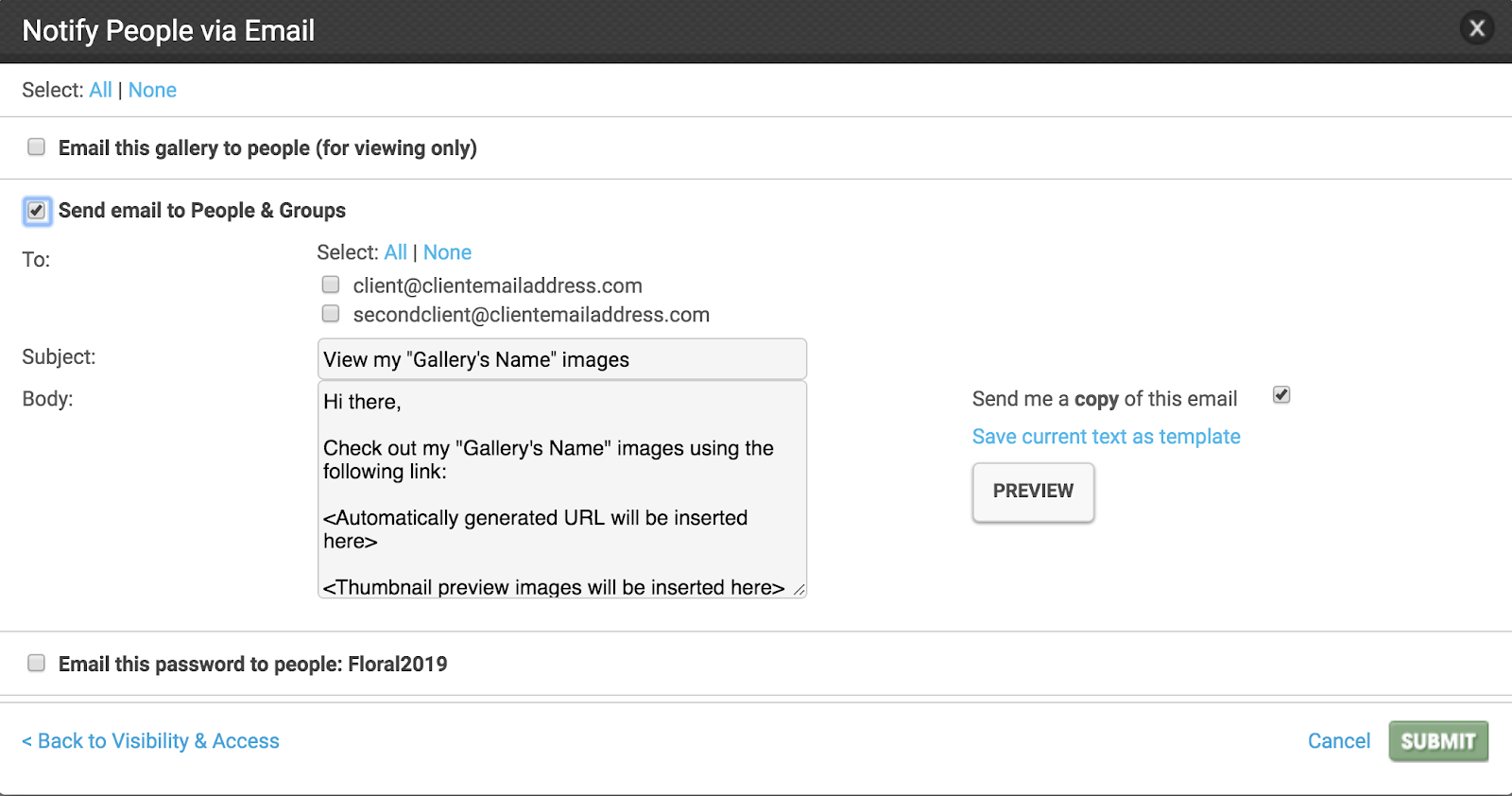 Because there are specific permissions attached to each of these people, you won't be able to edit the recipients from this screen -- you'll have to click the "< Back to Visibility & Access" link in the lower left-hand corner of the window to do so.
5.We automatically pre-populate the email notification with a subject line and text that tells the recipient to check out your images, as well as a direct link to the collection or gallery. You can customize this text to say whatever you want.
The default copy for each email will be customized to fit the particular scenario. For example, if you're working with a collection or gallery that requires a password for entry, then the pre-populated text will include the password itself. Similarly, in the case where individuals will be required to log in to a free PhotoShelter account to view your images, we'll automatically generate the appropriate gallery or collection URL for this person. (We'll first detect whether they already have a PhotoShelter account in our system so that they can be properly prompted to create a new account if necessary).
6. Optional: If you edit the default text, you can save it as a template for future use by clicking "Save current text as template." You also have the option of sending a copy of the email to yourself by checking the box next to "Send me a copy of this email." In your version of the email, you'll see a list of the email addresses to whom your email was sent for your own records.
7. Optional: Before you send, you can click the "Preview" button to see what the message will look like to your recipients.