Quick Send is a great way to send a few (or many!) images to a client without logins, passwords, attachments, or third-party services. Through the Quick Send feature, you may easily bundle together a group of images and generate a download link that you can send to your client. For your security, the link is only valid for one week.
You can use Quick Send to deliver any image in your account.
Delivering Images via Quick Send
1. From the Left Pane of your Image Browser, select the gallery that contains the images you want to send.
Note: You can also use Quick Send from image search results.
2. Select the images that you want to send to your client for download. (Select multiple images by using the command key on a Mac or the ctrl key on a PC, or by clicking and dragging across a range of thumbnails.) 
3. Select Quick Send from the Actions menu at the top of the Center Pane. 
4. Select the file size and format you want to send, then click Next.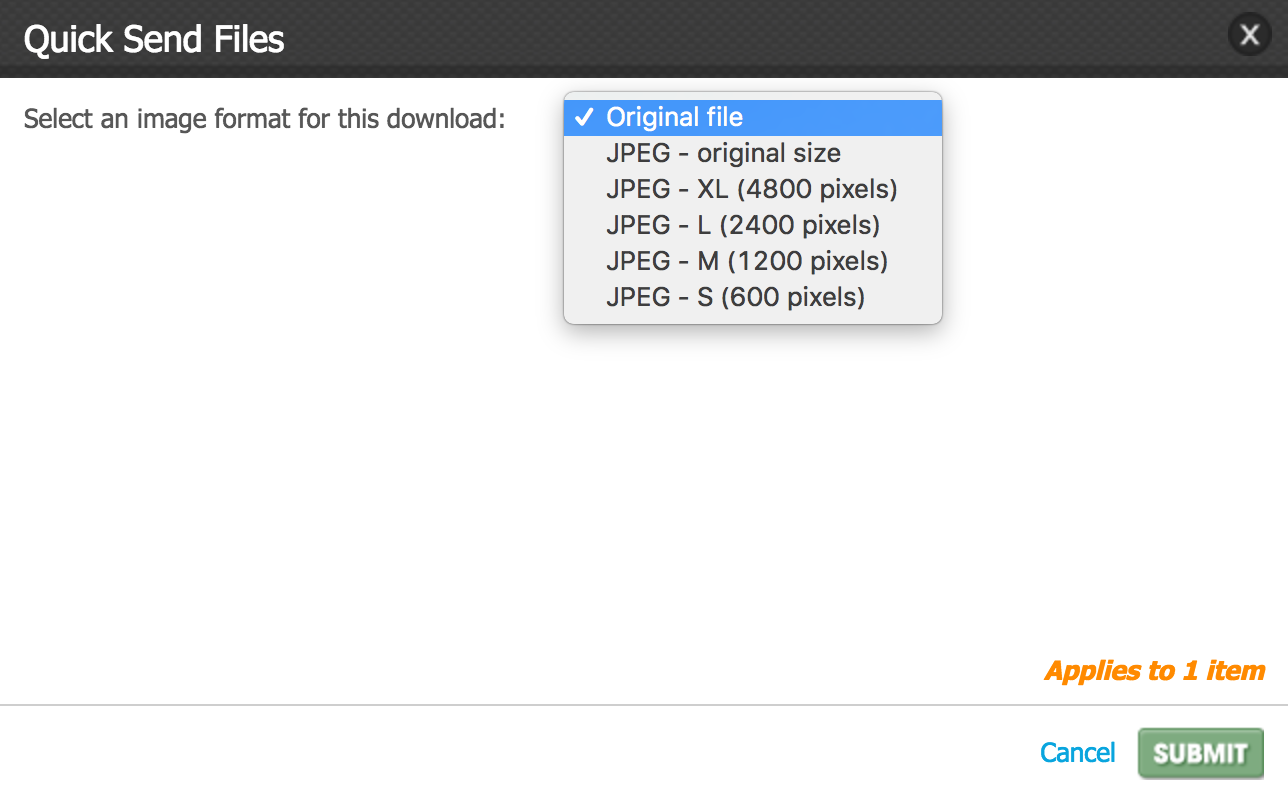 5. Here, you'll see the download URL. From here there are two options:  
A. Sending files without leaving PhotoShelter

Enter your client's email address, customize your message, and click Submit. PhotoShelter will send your message and download link immediately. Upon submitting the form, you'll see a fading notification at the Center Pane that confirms your email was sent.
Note: The sender name on this email will use the first and last name as entered in your account information.
B. Sending files with your own email account

Copy the download link and paste it into an email in your preferred email client (e.g. Gmail, Hotmail, Outlook), then click Cancel. The link will still work after you click Cancel.
After an image has been retrieved via Quick Send, you'll see a record in your Download Logs. (These logs only contain the most recent 90 days of download history.)
Note: To learn how Quick Send works for your clients, try using it to deliver files to your own email address.