PhotoShelter allows photographers of all sorts to upload, publicize, and sell images online. All images found on our site are property of the photographers who have uploaded them, which means that if you wish to buy a print or other image product, you would need to do so from the photographer directly. Not all images that appear on the site may be priced for online sale-- we leave it up the photographers who use our service to decide whether or not images should be available for immediate purchase. If you'd like to purchase an image that does not appear to be available for purchase, please contact the photographer.

Filling your Cart
1. You'll know an image is for sale on a photographer's site if you see either a cart icon, an "Add to cart" button, or "Buy" button (depending on the particular design that photographer has chosen for their site) next to the image.
2. If the photographer has made prints available for purchase, when you click the "Add to Cart" or "Buy" button, you will see a "Prints" tab listing all of the available print sizes and options, along with their pricing. The photographer may also have other types of products available under the "Products" tab.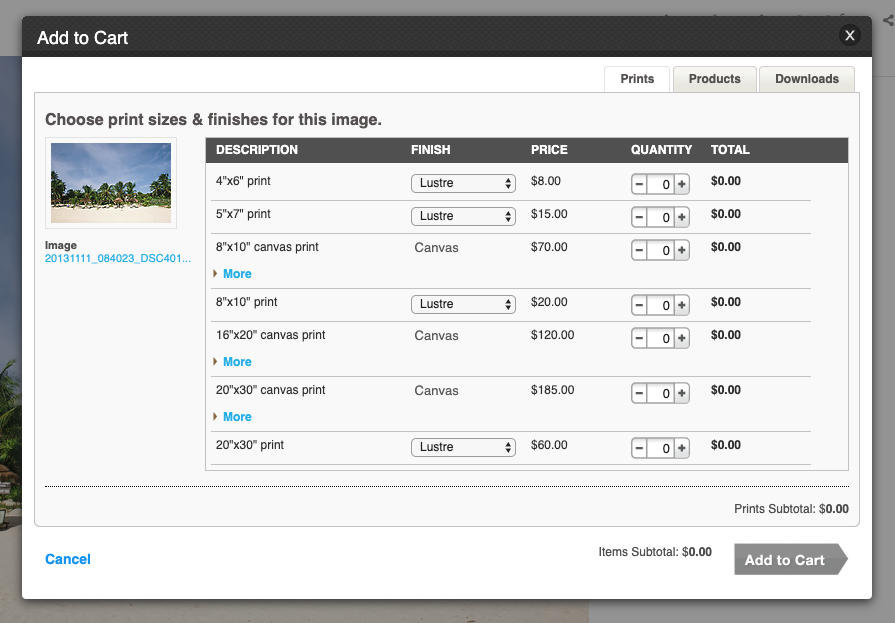 3. Use the "+/-" buttons to adjust the number of prints at a given size, or type directly into the quantity field. If there are finish options available (i.e. glossy vs. matte vs. lustre), you may make these selections under the "finish" column.
4. Once you've made your selections, click the "Add to Cart" button. You may then choose to continue shopping or proceed to the checkout area. Should you choose to continue shopping, you may always access your cart later by clicking the "Cart" link in the website menu, if available, or visiting your Open Carts List.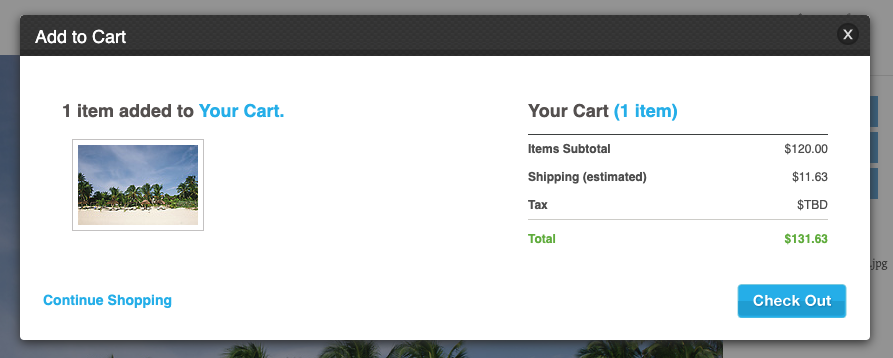 Cropping
If you're purchasing prints or certain products, it's possible the print size doesn't correspond to the dimensions of the image. For example, if you want a square print of an image that isn't square, a choice will have to be made about how that image will fit within the square frame. In most of these cases, you'll be given the option to choose how your image is cropped to fit your print. Unless the photographer has disabled this option, you'll see it when you arrive in your shopping cart. The image's current crop setting will be denoted by a red border around the image: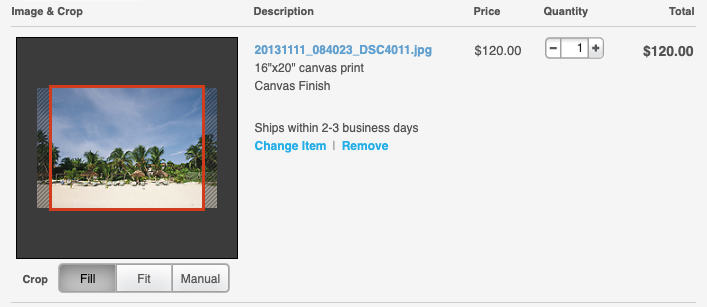 Choose one of the options as follows:
Fill:

This will fit as much of the image as possible into your print, centered, without causing borders to appear.

Fit: This will fit the entire image into your print, centered. Take caution, as this may cause borders to appear on two edges of your print if the image dimensions do not match the print dimensions.
Manual: Upon selecting Manual, a dialog box will appear, allowing you to click and drag the crop selection where you'd like it to be. To resize the crop selection, click and drag any corner of the red crop selection box.

Once ready, click the "Save Crop" button to return to the cart.
Please note that if you proceed to checkout and we detect a cropping issue may be at play, the following message will appear, urging you to be sure your crops are set exactly as you see fit.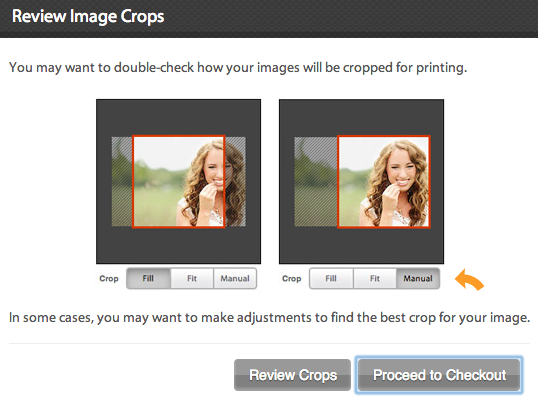 If you see the above message and click "Review Crops," we will flag any potentially affected images to make the review process quick and easy for you: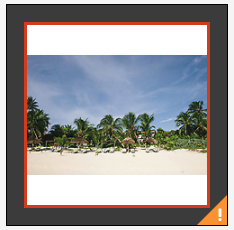 If you do not see these different crop options when viewing your shopping cart, your photographer may have disabled the options, or have elected to choose a crop on your behalf following checkout. If you have any concerns about how best to crop your images, please contact the photographer.

Completing Your Purchase
Now that you've looked carefully at the crops of all the images you're purchasing and you've moved along to checkout, we'll ask you whether you're a returning visitor (with a login) or if you'd like to proceed as a guest (doesn't require you to log in). Then, we'll ask you to enter your shipping address, choose a shipping method, and provide your email address (only if you selected that "guest" option). Finally, you will be asked to review your order, then you can remit payment and call it a day!
If you have any questions or concerns about your order after completing payment, please contact the photographer.
If you experience any technical difficulties while checking out, feel free to contact PhotoShelter's Technical Support.