How do I contact the photographer?
If you need to contact a particular photographer regarding business inquiries, a request to purchase or license an image not currently for sale, viewing access, or download access, you may find their contact information on their website. Most photographers have a Contact page listed, which includes a form you can fill out to send them an email. If they don't have a Contact page on their website, they may have contact information listed near the website menu on the homepage. If you still can't find a way to contact the photographer, feel free to drop us a line, and we'll reach out to the photographer on your behalf.

What do I do if I experience a technical issue during the checkout process?
If you have trouble checking out, feel free to reach out to PhotoShelter Support at support@photoshelter.com. We're available Monday - Friday, 9am - 7pm ET and will do our best to get back to you within one business day.

I don't see an "add to cart" button or cart icon next to the image. How to I buy it?
It's very possible the photographer has not priced the image for sale. Please contact the photographer with your interest to purchase a print or download.

My photographer sent me a link to my photos, but I don't see a download button. How do I get my photos?
If you received a link to your photos from your photographer, it was one of a couple types of links:
If the link takes you to a page only showing your images and some instructions about selecting favorites, this link is not meant for downloading, but to select proofs. You can share your selections with your photographer from this page, then later they can send you a link specifically for downloading!
If the link takes you to your gallery on the photographer's website, but you don't see a download button either when viewing the full gallery or when viewing individual images, please contact your photographer. They should be able to turn on those buttons for you.

Do I need a PhotoShelter account to buy images?
Nope! While a free account is required to keep track of your past purchases, create and view lightboxes, and access invitation-only galleries, you may choose the "Guest Checkout" option to complete a purchase without creating an account or logging in. All we'll need from you is an email address.

Why does my single order show multiple shipping charges?
Although it might be one single order, the items that you've purchased may not all come from the same print shop. For example, if you order a standard print and a custom print (e.g. on watercolor paper), your standard print may be shipped from one of PhotoShelter's print partners, while the other product may be produced by the photographer, who sets their own shipping rates. Thus, you'll find multiple shipping charges added to your purchase total.

I'm trying to check out, and it says something about PayPal.
Photographers who sell images through the PhotoShelter shopping cart have the option of accepting payment through PayPal. If they have configured their account this way, you will be required to enter your credit card information through the PayPal website, or you can log into PayPal and pay using your PayPal account.
You will be redirected from the photographer's site to the PayPal site to complete your transaction, but you do not need to log into PayPal to finalize the purchase. Once redirected to PayPal, you should see an option for PayPal "Guest Checkout."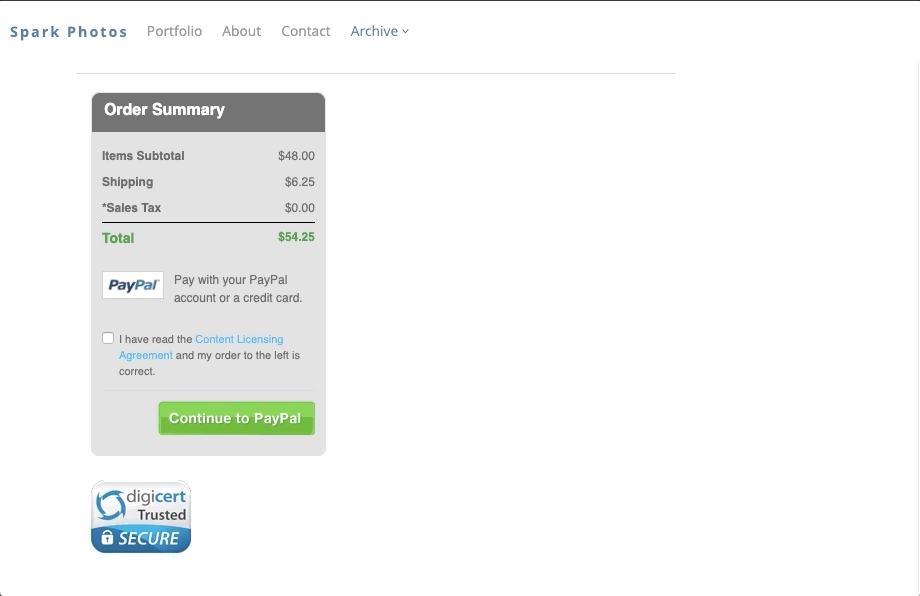 I accidentally added the wrong print/download size to my cart. Can I change that without having to start all over again?
You sure can! You should see "Change Item" and "Remove" links next to each line item in your cart. Simply click the "Change Item" link to open up the same "Add to cart" window from which you chose your item earlier, and make your new selection. Click "Remove" to take just that item out of the cart without affecting anything else you may have added.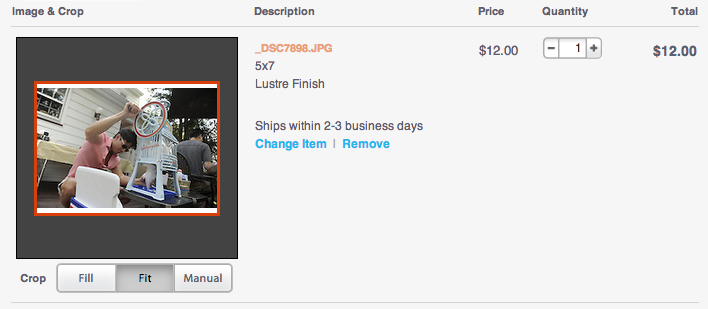 I accidentally added the wrong item and checked out. Can I change my order after I have paid?
Don't panic! Contact the photographer as soon as possible. Some print and product orders process and ship very quickly, so we can't always guarantee a full refund, but we'll work together with your photographer to find the best possible solution.

I want to purchase a download, but when I click the "Download" link from the photographer's website, it tells me to login. I thought you said I didn't have to login to buy!
The "Download" link actually only allows for *free* downloads. You will only be able to download using this link if the photographer has granted you such access. To purchase a download, you will want to click the "Add to cart" or "Buy" button (you may see either depending on the design the photographer has chosen for their site).

I can't see a way to check out on my phone/tablet. Help!
If you'd like to make a purchase on a photographer's site and check out, you'll have to do so on a desktop computer. Currently, the e-commerce platform is not optimized for mobile and tablet use, but we're planning to change this very soon!

I'm trying to create a new account, but it says my email is already in use. What do I do?
This means that at some point in the past, you already created a free account with us under this email address. No worries if you don't remember! Just click "Forgot Password?" on the login page, and we'll send you an email with a link to reset your password.

I'm looking at a lightbox, but there are gray "N/A" boxes in place of the photos. What happened?
This is usually a result of the image owner changing a photo's visibility settings, or the lightbox was shared with someone who should not have access given the photo's visibility settings. All you need to do to remedy this is share the Lightbox with the photographer or image owner, and the images will be visible once more.