PhotoShelter allows photographers of all sorts to upload, publicize, and sell images online. All images found on our site are property of the photographers who have uploaded them, which means that if you wish to buy a print or other image product, you would need to do so from the photographer directly. Not all images that appear on the site may be priced for online sale-- we leave it up the photographers who use our service to decide whether or not images should be available for immediate purchase. If you'd like to purchase an image that does not appear to be available for purchase, please contact the photographer.
You'll know an image is for sale on a photographer's site if you see either an "Add to Cart," "Buy," or cart button (depending on the particular design that photographer has chosen for their site) next to the image.
A "package" is a collection of prints and/or downloads that you may purchase for one set price. If the photographer is selling packages, you will see a "Packages" tab that displays the available product combinations after clicking the "Add to Cart"/"Buy" button from their site.
It's up to the photographer to decide what print/download options should be included in a package, as well as whether the package may include only one image (being purchased in several formats) or a group of images.
Under the "Packages" tab, you'll see a list of the packages the photographer has made available for this image. The items included in the package will be listed here, along with the photographer's package description.
Selecting Package Contents
Select the package you would like to purchase. If a single image package is chosen from the list, an overlay will appear allowing you to select finishes for each print option in that package.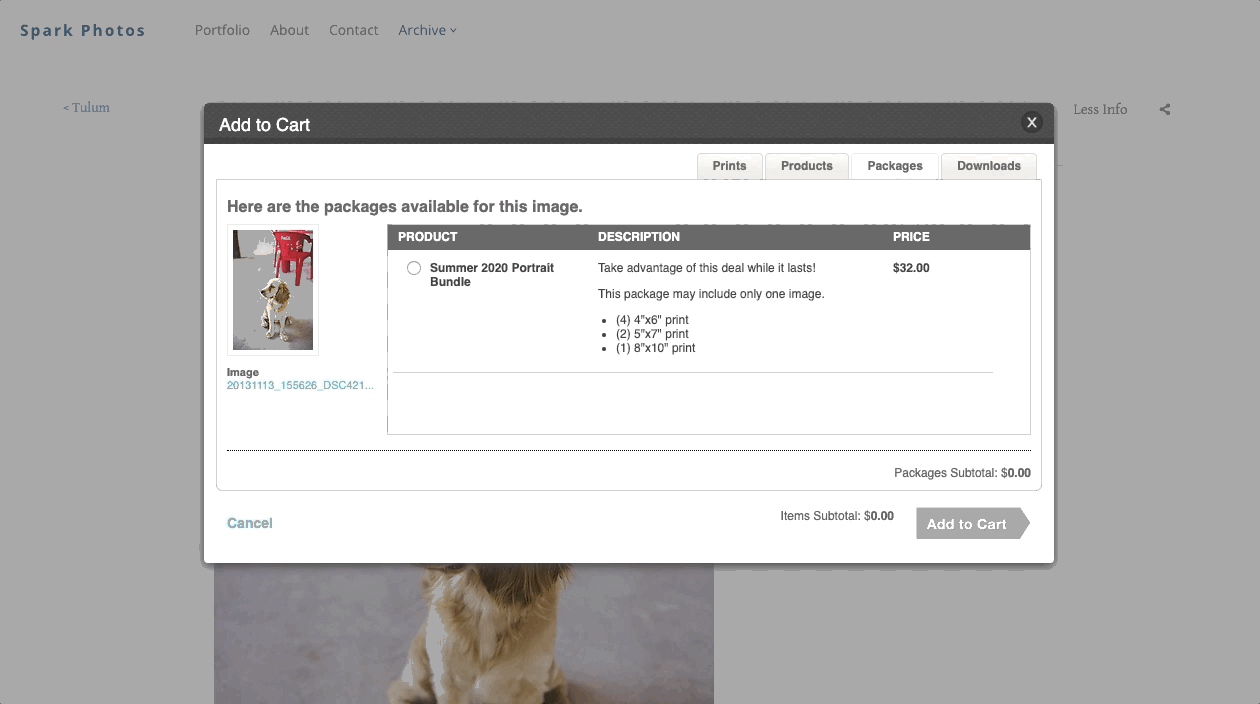 If a package that may contain multiple images is selected, an overlay will appear allowing you to make your additional image selections for the package. You can do so by dragging and dropping images from the bottom scroll into the available slots above. As image packages are available on a gallery-by-gallery basis, you will only be able to select images from the same gallery as your first image choice. While on the selection page, you may also choose finishes for each print option available in the package.
Once satisfied with your package selections, click the "Save Selection" button. This will take you back to the previous window, where you may click "Add to cart" to continue with your purchase. You may then choose to continue shopping or proceed to the checkout area. Should you choose to continue shopping, you may always access your cart later by clicking the "Cart" link in the website menu, if available, or visiting your Open Carts List.
Completing Your Purchase
Once you've accessed your cart and are ready to checkout, click the "Checkout" button to proceed with the purchase. We'll first ask you whether you're a returning visitor (with a login) or if you'd like to proceed as a guest (doesn't require you to log in). Then, we'll ask you to enter your shipping address, choose a shipping method, and if a guest, provide your email address. The last step is to review your order, and then you can remit payment and call it a day!
Note: If you experience any technical difficulties while checking out, feel free to contact PhotoShelter's Technical Support. If you have any questions or concerns about the contents of your order after completing payment, please contact the photographer.