The majority of what contributes to your search engine ranking are off-site factors. These aspects include your backlinks, blogs, and social media, among other things.Thus, it's crucial to your overall SEO performance to consider marketing your site, brand, and business across the web. This article walks through key tips and considerations when building your off-site SEO strategy.

Backlinks
Blogs
Local SEO
Setting up a Google Business Profile
Citations
Social Media
Backlinks
Having a backlinking strategy is a crucial part of developing SEO for your website. A backlink is a link on another site that leads to a page on your site. Generally speaking, search engine algorithms favor websites that are linked to by other reputable sites. Think of backlinks as a vote in your favor or an endorsement in the eyes of search engines. You can also think of it like a handshake — a backlink is validating information because two sites have the same data and one is vouching for the other.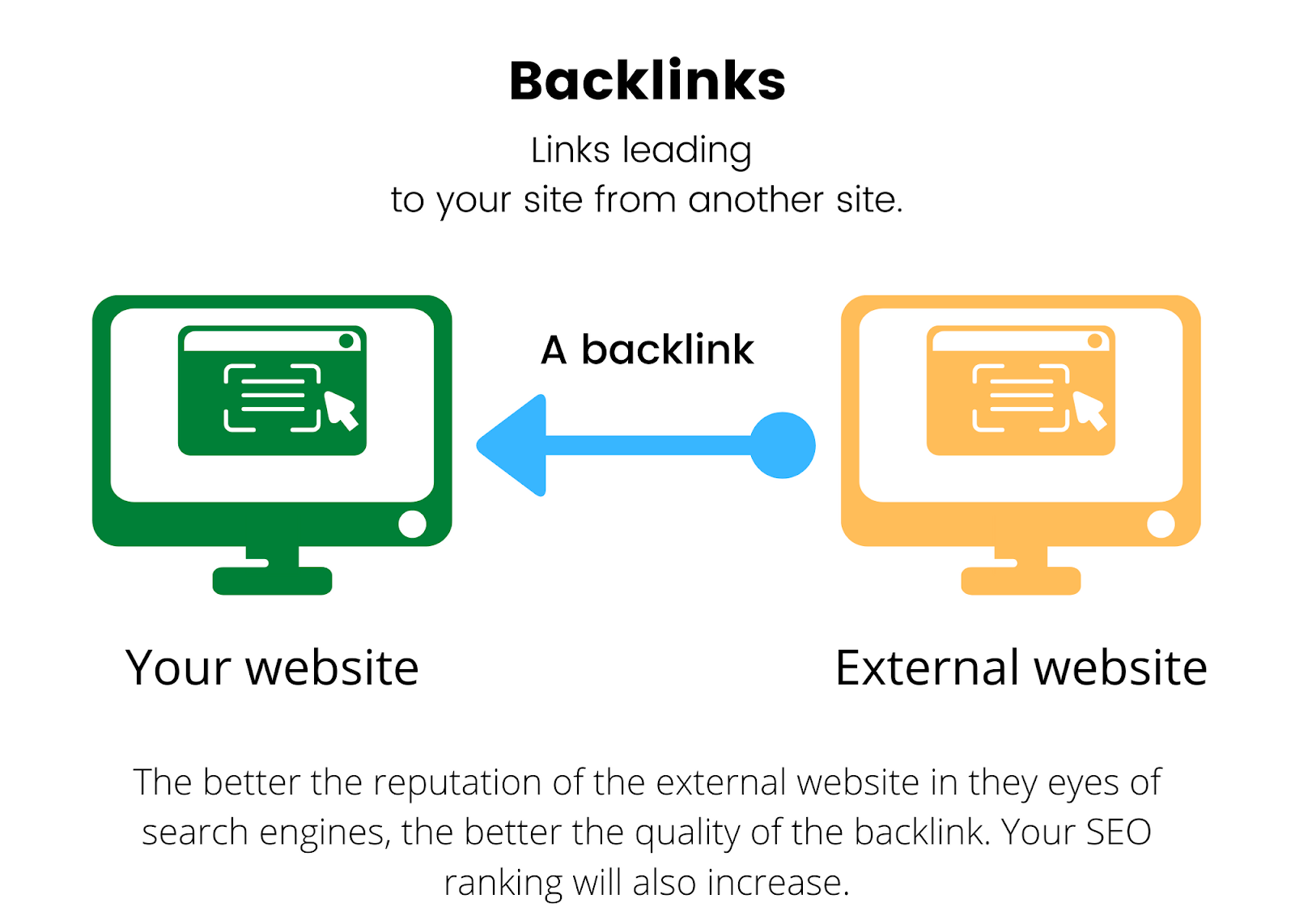 The quality of your backlinks is more important than the quantity. Quality backlinks come from a credible website and have a high page rank. Our resources article has suggested tools for tracking backlinks. Please note that PhotoShelter does not offer SEO backlinking strategy as a service.
Without backlinks, you may have a hard time ranking high in search engine result pages, so plan to network. Request backlinks to custom pages on your site, or to particular galleries or collections. Since your homepage is typically the most-trafficked page of your site, it's helpful to diversify your backlinks when possible.
Consider the following as possibilities for backlinks:
Encourage clients with websites or social media profiles to link to your website and/or social profiles.

Ask to guest blog for others who have established themselves in your target market.

If you're part of a social media group or forum containing your target audience, share your website or a link to your work.

Add your links to your website in your social media profiles.

Add backlinks on your other websites (if you have any) to your PhotoShelter site. Add links to relevant pages of those other sites with

anchor text

.

If you have any partnerships with brands or organizations relevant to your work, see if you can do an Instagram takeover for them for a week.
Blogs
Having a blog and updating it regularly can be advantageous to your visibility online:
Search engines crawl sites that are updated with a higher frequency more often than sites that are not updated frequently

. Blogs update their content regularly with new posts so backlinking from your blog to your PhotoShelter website will help lend credibility to your PhotoShelter site. This credibility may result in a boost in your page rank (how high up you are in search results).

Blogs have the opportunity to backlink to your site in each post. You can backlink to your own images from a blog and allow traffic to pass through to your PhotoShelter site. You can also use your blog's traffic to leverage possible

content trades. Guest blogging, in return for a backlink, is a great way to widen your audience.

This article can provide a little more advice on high quality guest blogging suggestions: https://ahrefs.com/blog/guest-blogging/.

A blog may allow you to leverage your existing audience to expand your reach. Encourage followers to share your posts with others in their network, generating more exposure for you.

This can increase your organic traffic from relevant communities.
Learn about PhotoShelter's Blog integrations here.

Local SEO
Local SEO focuses on geographical information. If a user searches for industry + location, the search engine recognizes that the search has local intent. This means the search has become more specific and will cull results that meet the geographic location included in the search.
Searching on a desktop vs. searching on a mobile device differ, which is why it's crucial that you focus on building your local SEO. For context, ~53% of Internet users are actively searching for information using their mobile devices (source). When searching on a mobile device, Google is working to deliver more relevant search results to users based on their smartphone's location data. When searches are initiated on a desktop, Google tends to return a larger amount of data, meaning you may find that you end up lower on the search results.
To gather information for local search, search engines rely on signals such as local content, social profile pages, links, and citations to provide the most relevant local results to the user.
Search Engines look into three major things to influence your rankings:
Relevance: Focuses on how well a local listing matches a user's search terms. The more complete and accurate your business listing is, the easier it is for Google to properly understand your business and return your listing in local search results.

You should capitalize on using keywords that focus on locality.

Proximity:

This pertains to how geographically close a search result is from the searcher

. Google uses mobile location sources or location terms included in a query to return relevant results based on listings within that specific area.

Prominence:

A measure of how well-known a listing is across the web. Involves evidence that others are talking about your business online (e.g. citations, links, reviews, blogs, social media activity, and more).
Setting up a Google Business Profile
One great tool that you should consider setting up is a Google Business Profile. This tool provides you with helpful analytics about visitors and search queries used to find you, enabling you to make decisions that can enhance your local SEO.
Setting up a Google business profile is an easy process. When a potential client searches for your page, they will be able to see a synopsis of information you've filled out in your Google Business Profile on the right side of their search results page.
To get started, head over to google.com/business, select "Manage Now," and follow the prompts to set up your profile.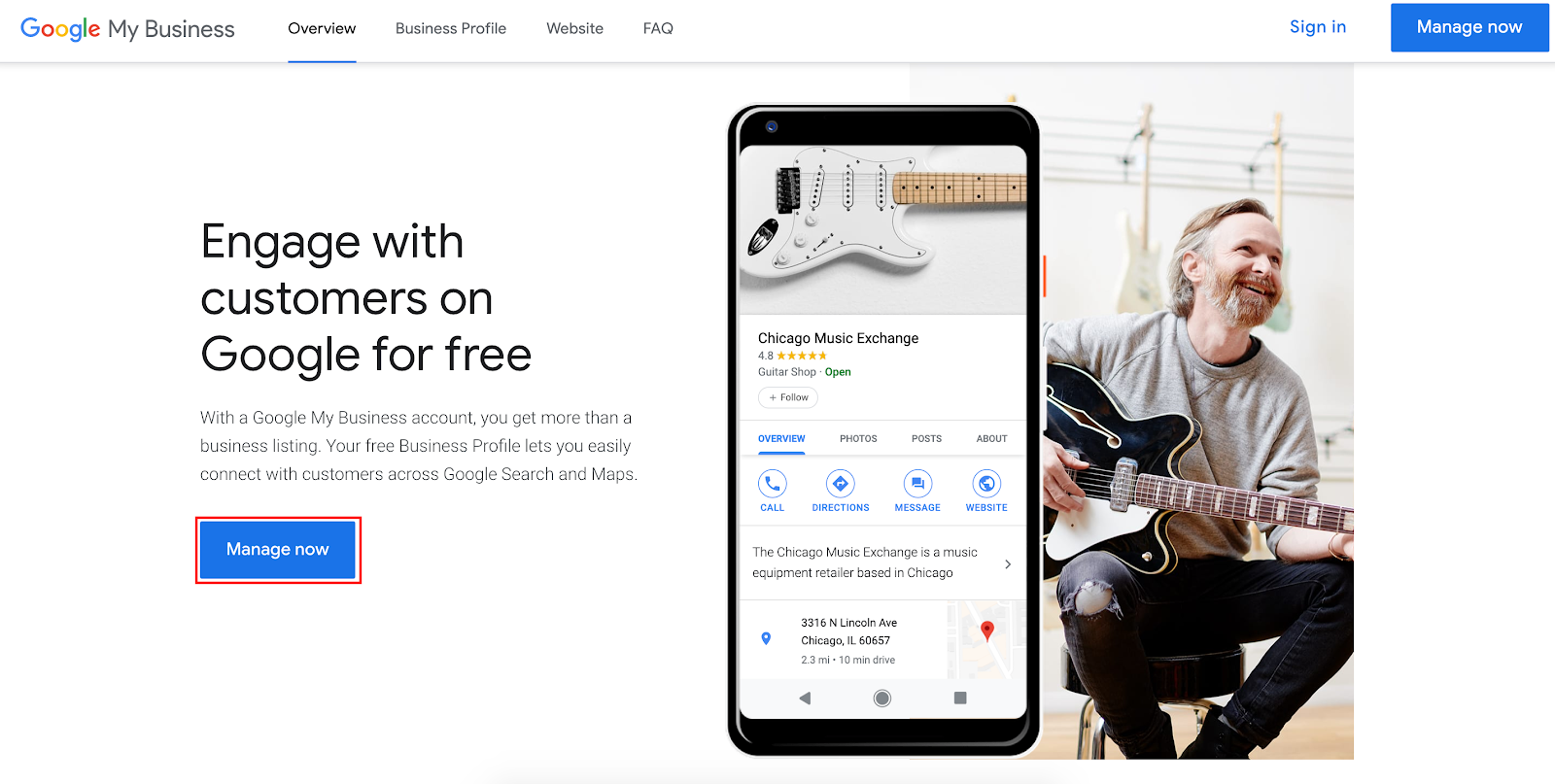 Once you have the account set up you'll be directed to your Business Profile Dashboard. Here you'll be able to view the analytics of your business page, add reviews, images, and more. You can find out more about what you can do with your business profile here.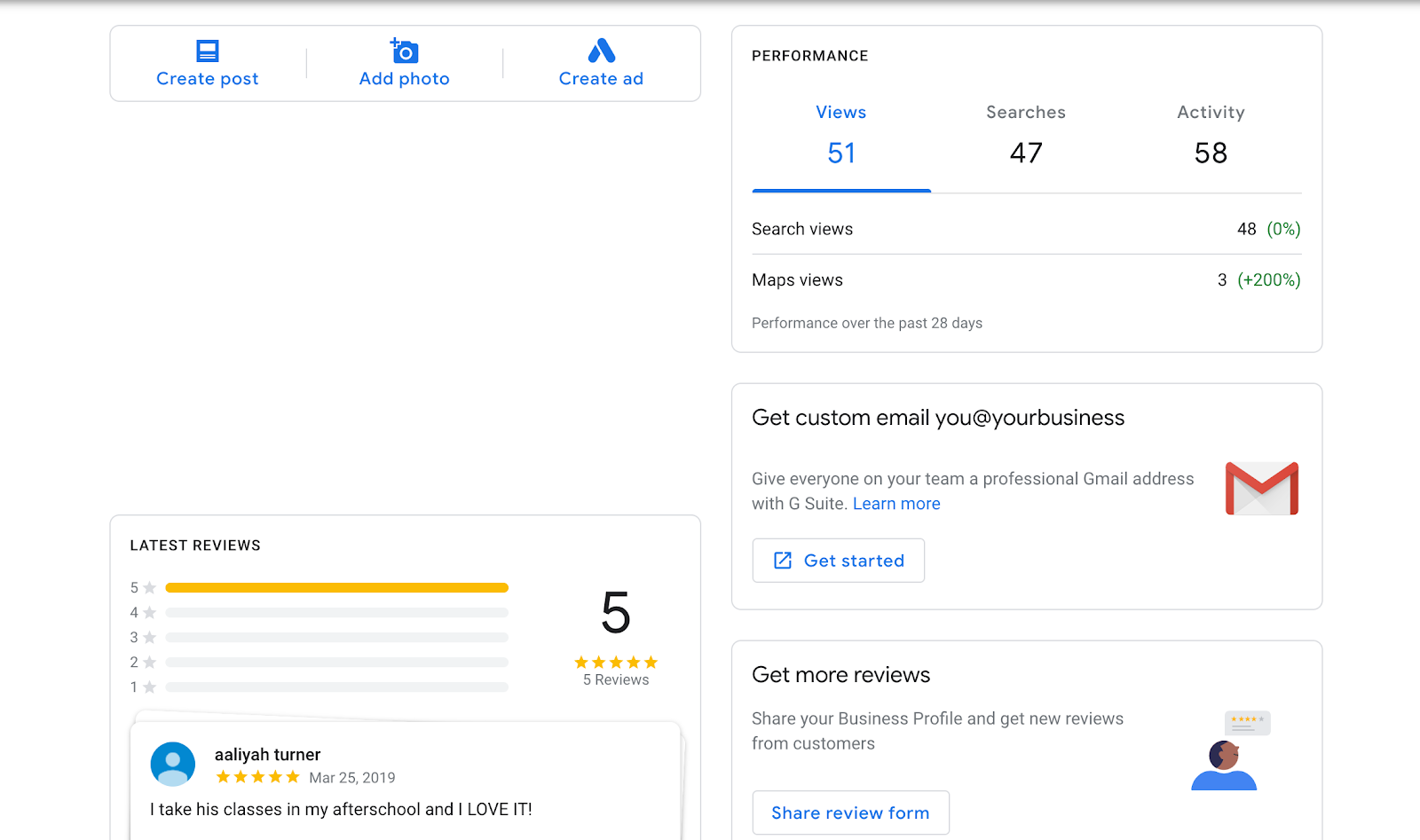 We recommend that you focus on the following sections:
Posts: Posts are a great way to make potential clients aware of events or offers you have going on. Google is like your first line of defense and a way to entice potential buyers - a new client may browse your Google Business Profile information before clicking through to your website.
Info: In addition to your name, address, and phone number, this section allows you to expand on that information by including your website, studio information, any special hours you have, and much more. Google takes into account citations, which are any mentions of your business name, address, and phone around the world. It's important to use this information whenever possible and make sure it's the same across any platform you apply it to.
Insights: Analytics on how people are coming across your business profile. This information helps you determine if things are working well. It also helps you learn more about your customer and what people are looking for to find you.

Reviews: You should always ask your clients to leave a review/testimonial. If you have a testimonial section on your website, we recommend adding those to your Google Business profile. It's a good idea to ensure that any reviews, positive or negative, on your Google Business page have a reply from you. Google reviews can improve your search rankings and communicate trustworthiness to your potential clients.
Photos: As you do with your portfolio, curate a collection of your best images taken from each service that you offer. If your images make an impression, potential clients will be more likely to click that website icon.
Products: This is a list of physical products that you offer, such as photo albums or prints. Use this section to mirror what's for sale in your print shop, if you have one.
Services: This section should list the type of photography that you offer (e.g. headshots, portraits, commercial). This will help you appear in more specific search results (e.g. headshot photographer in Brooklyn).


Citations
Citations are any mentions of your business name, address, and phone around the world (sometimes shorted to "NAP"). These listings should be exactly the same across any platform you are a part of. For instance, if you have a Google Business account and a Yelp Business account, the information on both platforms should be consistent, specifically because some websites like Superpages.com and other directory websites aggregate citations that are on the web without site owner intervention, and that information must be accurate to ensure your business can be discovered and contacted. Focus on the quality and consistency of your citations, ensuring your contact information is up-to-date and any relevant links are still active.

Social Media
Don't forget to leverage your social media profiles to drive traffic to your website. Where possible, link to your website or pages on your website to which you want to bring higher traffic in your social media posts or profile. In PhotoShelter, be sure to add social follow icons to your site.
There are apps that will allow you to schedule posts to various social platforms. Hootsuite, a popular social scheduling app offers a free plan to get started. For additional suggested tools and resources, check out this article.
Suggestions for use of social media platforms:
Social Media Platform
Use Case
Facebook

Best used for more in-depth storytelling to a wide array of demographics. Easier interaction and sharing of content.

Instagram

Best used for sharing stories that gain audience engagement (likes, comments, taps). The use of hashtags in Instagram allows you to reach your target audiences by connecting relevant posts to users who engage with that tag. It's important to interact with as many comments or likes that you can.

LinkedIn

Best used for more of a professional approach. Place links to technical blogs that you've written or articles you're published in. Posts should be centered around the professional parts of being a photographer.

Pinterest

Best used to share your creative process through inspirational images via mood boards. You can also set your images as pinnable (

browser extension

) and this will allow for your images to be included on other's boards.

Twitter

Best used for immediate calls to action. Sharing content that rallies emotions.