Your images and their metadata are a key part of building your website. It's important to keep in mind that following all of these suggestions can help you improve your Search Engine Optimization (SEO), but it will require you to set aside time to develop your content and marketing strategy to really make the most of your website. SEO isn't a one-time setup and will require maintenance over time. Before getting set up to sell, you should optimize your site to be found in search engines like Google or Bing.
Know your Audience
IPTC Metadata
Gallery and Collection Descriptions
Marking Images as Publicly Searchable
Know your Audience
Defining your audience is an important first step to conquer when building your website. It will inform which galleries you choose to feature, which keywords you use for your image metadata, and how to alter your site over time to cater to your target audience. Having a target audience for your brand of photography will help you stand out for your particular strengths and skills.
Here are some questions to consider when defining your audience:
What would you like people to search for in Google (or other search engines) to land on your website's homepage? Be sure to consider your local market primarily.

Who are your competitors in this space? If you run a Google search for the keywords you want to use, how are those competitors addressing their target audience by the way they write?

What is the budget of your ideal client? Be sure to do your research and consider target demographics.

What other sites/forums/modes of social media are your clients spending their time on?
By the end of these questions, try to have one or two sentences that define your target clientele. The statement should include a target demographic, location, and problem that your photography will solve. Start the sentence with "My ideal client is…" The more specific you can be with this statement, the easier it will be to choose a marketing strategy further down the line.
IPTC Metadata
Workflow
SEO details are pulled from the IPTC metadata within your photographs. Before you jump into tagging your photos, consider the software you're using to define an ideal workflow. For example, what program(s) do you use to organize and edit your photos before uploading to PhotoShelter? Platforms such as Lightroom, Capture One, and Photo Mechanic all allow you to apply IPTC to your photos, which will be retained in the file when you upload it to PhotoShelter. PhotoShelter offers the ability to upload directly from Lightroom and Photo Mechanic, which can streamline your workflow even more.
Alternatively, do you typically upload photos to PhotoShelter shortly after capture with limited editing? Our platform also makes it easy to add IPTC metadata within your account. If needed, you can always download your photos back out of PhotoShelter with your metadata updates applied.
Adding IPTC Metadata in PhotoShelter
For our full tutorial on editing IPTC metadata for single images and in batch, check out this article. Below is a quick step-by-step on viewing and editing metadata for a single image.
1. In your Image Browser, select the gallery in the left pane that contains the image you want to edit.
2. In the center pane select the image you want to add metadata to.
3. In the right pane, click the pencil icon next to "IPTC Metadata" to expand the list of fields. Enter the text you want to add.
4. Save changes with the check mark symbol at the top of the list of metadata.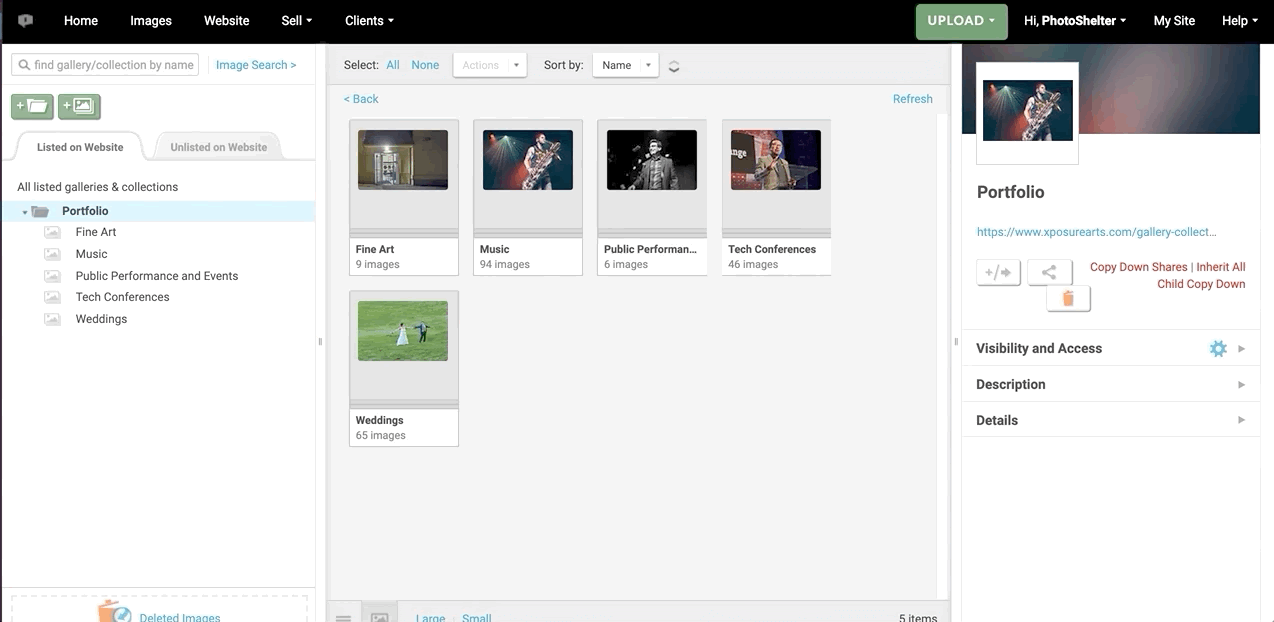 Important IPTC Metadata Fields
It's a good practice to fill out as many IPTC fields as you can, but the fields below are the ones you should pay attention to in your SEO efforts. In your PhotoShelter account, we flag these fields with a green "SEO" marker.
Description/Caption
The description/caption should describe the contents of a photo (consider the who, what, when, where, and why). This text helps search engine crawlers understand what is in any given image. PhotoShelter will use your description/caption field as the alt text, which can be used to describe images to visitors who are visually impaired.

Headline

According to IPTC standards, a headline is "a brief synopsis of the caption." This is different than the title field, which should be a short "text and/or numeric reference." Your headline will be part of your sitemap and readable by search engines.
In PhotoShelter, the Page Title (visible in your browser tab) for your single image pages in the archive will pull from the Headline field.
Title
A title should be a shorthand reference for the photo. We recommend that you think about how you'd name the file instead of the filename and use that for the Title (without the file extension or underscores).
In PhotoShelter, if you do not have the Headline field populated, the Page Title (visible in your browser tab) on your single image pages in the archive will pull from Title. If you do not have a Headline or a Title, it will use the Filename.

Keywords

IPTC keywords are words or phrases that help search engines understand the content of an image. Without keywords, a search engine crawler will not be able to index an image due to the lack of readable content. Using the right keywords for your images is just as, if not more important than having keywords at all. Here are some guidelines:
Separate keywords by a comma and a space.

Don't treat keywords like hashtags on social media (i.e. #photooftheday2020, photooftheday, #houstonwedding, photography2020 are not useful keywords).

Make sure keywords are specific to the content of the image. Instead of simply using "dog," try "Border Collie Dog." Supplement a keyword like "Grand Canyon" with a specific location or landmark that the picture includes (e.g."

Maricopa Point

" or "Grand Canyon

Maricopa Point").

Quality over quantity

: Include at least 5 keywords per image. Don't add keywords that are irrelevant and avoid using too many keywords that are generalized. Google and other search engine algorithms consider this practice "keyword stuffing" and they tend to penalize sites for this. Using a keyword like "best photos 2020" will not help a user find your particular image. Search engines tend to reward websites with the most relevant keywords that relate to the text content in the rest of the website.

What will someone search for to find the photo in question? Using a keyword "photo" will not help as much as "Corporate Headshot." If a potential client wants to find a Corporate Headshot photographer in your area, what are the most important phrases they will type in? You can even try searching in Google and you will see similar searches. Be discerning about what you actually use as keywords from these suggestions:

Keep in mind that you're competing with other photographers on the web for search engine's top rankings

. If your keywords are as specific and relevant as you can get them, there are still other factors involved in search engine rankings which we will discuss later.
Filenames
Filenames are not given much weight when it comes to SEO, but that doesn't mean they should be ignored. Using filenames that are descriptive to the content is more helpful than using auto-generated filenames from your camera. For instance a file named "red-wine-vinyard.jpg" is better than "IMG00456.jpg. Ideally, filenames should be modified in your editing program prior to upload so you can have an easier time finding the corresponding files in your local storage, but you can change the filename in PhotoShelter as well.
Note: The file extension (e.g. .JPG) should never be removed from the filename, as it can cause errors upon downloading the file.
Image Credits
In 2018, Google Images added more rights-related metadata into a new "image credits" section for search results. This displays metadata from the IPTC Creator, Credit, and Copyright fields when available. See below for the name of these fields in PhotoShelter, Lightroom/PhotoShop and Photo Mechanic. Read more about how these fields are indexed on the official IPTC site and more information on this on our blog.

Author

Populate this field with the name of the person who created the image.
This field is labeled differently in different products:
| | |
| --- | --- |
| Product | IPTC Field Name |
| PhotoShelter | Author |
| Lightroom & Photoshop | Creator |
| Photo Mechanic | Creator/Photographer |
Credit/Provider

Populate this field with the person or organization who should receive credit when the image in publish.
This field is labeled differently in different products:
| | |
| --- | --- |
| Product | IPTC Field Name |
| PhotoShelter | Credit/Provider |
| Lightroom & Photoshop | Credit Line |
| Photo Mechanic | Credit |
Copyright
This field should be the owner(s) of the copyright for this image. Keep in mind that the copyright field will be used as your watermark if you have turned on watermarking in your Security Settings and have not uploaded a custom watermark.
Web Statement URL
This field should be a link (starting with https:// or http://) referencing a page about copyright ownership for the image. In most cases for PhotoShelter users, this would be a link to our licensing terms: https://www.photoshelter.com/support/license.
This field is labeled differently in different products:
| | |
| --- | --- |
| Product | IPTC Field Name |
| PhotoShelter | Web Statement URL |
| Lightroom & Photoshop | Copyright Info URL |
| Photo Mechanic | Copyright URL |
Licensor URL
The Licensor URL should be a link (starting with https:// or http://) to a page with info on how to acquire a license. For most PhotoShelter members, this will be your contact page.
This field is labeled differently in different products:
After you have finished populating the SEO-relevant IPTC fields, fields make sure that your images are marked as publicly searchable to ensure search engines have permission to crawl and index them.

Gallery and Collection Descriptions
Like your individual images, you can infuse your gallery and collection names, as well as gallery and collection descriptions, with search-relevant content. These descriptions will show in Gallery and Collection pages in your Archive section of your website and can be found by search engine bots that read text on the page. To edit gallery descriptions:
1. In your Image Browser, select the gallery or collection in the left pane that you want to edit.
2. In the right pane, click the "Description" tab and enter the text you want to add.
3. Save your changes with the check mark symbol.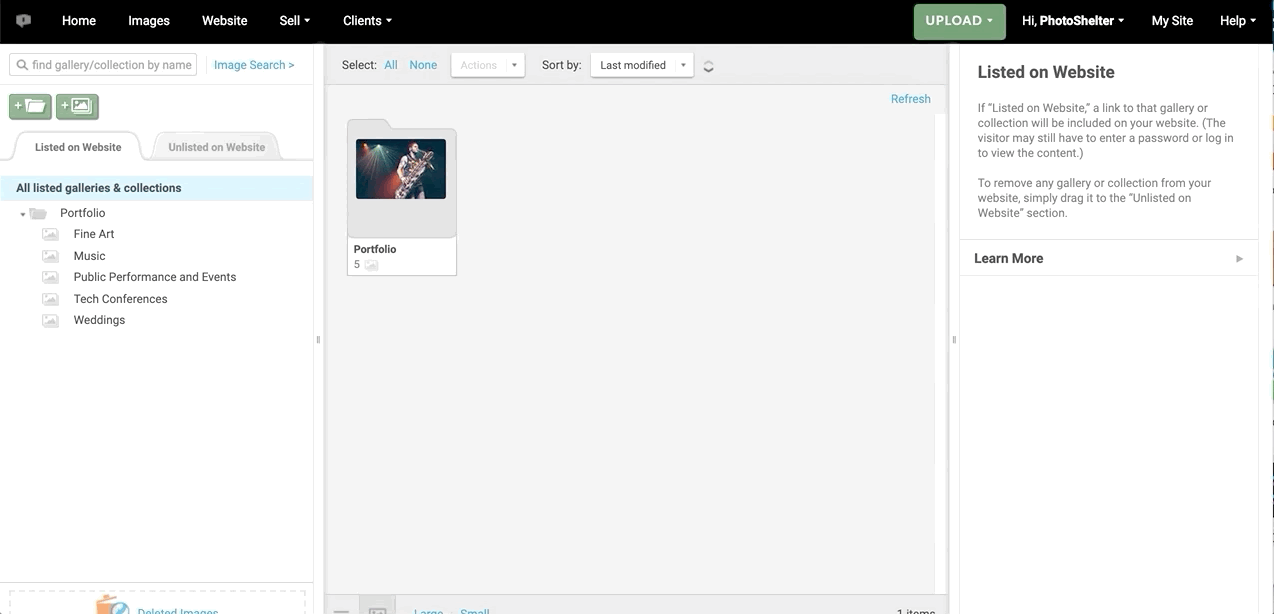 Making Images Publicly Searchable
Marking images as Publicly Searchable gives search engines permission to crawl and index the photos. In PhotoShelter, you should mark images as publicly searchable in order for it to be found on your website's search as well as external search engines like Google or Bing. We recommend applying this setting to any images that you want to be publicly viewable and searchable. Please reference this chart to make sure you have the correct settings applied to your images for the desired search results:
Note: For the chart above, keep in mind that if your galleries have a visibility setting of "Those with Permission" or "No One But Me," marking images as searchable will allow those images to be indexed by Google and other search engines.