In order for an image to be searchable from your website's Search Page or the global search tool on the PhotoShelter homepage, you must explicitly mark it as searchable. Marking an image as searchable also improves its chances of being indexed by a search engine like Google.
Note: The searchability of an image is completely separate from the visibility of the gallery in which it's contained. If you do not wish for images to be publicly accessible, we recommend keeping them unsearchable.
This distinction makes it possible for you to keep a tightly edited list of galleries in your portfolio, but still have your full archive available via search. On the flip side, this also allows you to have certain images viewable to anyone who visits your website, but not have these images visible via a global search.
Changing Image Searchability
1. From the Center Pane of your Image Browser, select the images that you'd like to make searchable (or not publicly searchable). If you'd like to select all of the images within a gallery, click the "Select All" link at the top of the Center Pane.
2. Click the "Actions" drop-down menu and choose "Make searchable/unsearchable." You'll then see a pop-up box in which you may choose the appropriate setting for your selection. Publicly searchable images are represented by a green magnifying glass icon, which appears beneath the image thumbnail in the Center Pane.
Note: To make a single image searchable, select the image in the Center Pane and locate the quick action buttons in the Right Pane. Click the green magnifying glass icon to trigger the searchability.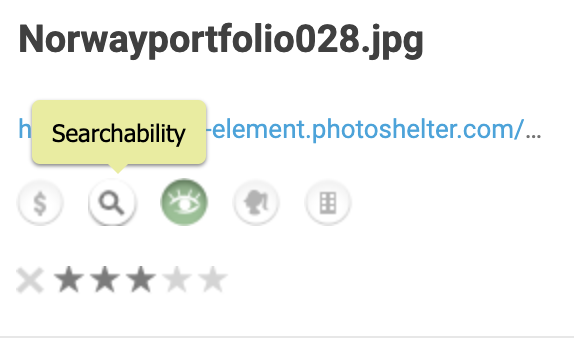 Tip: To save some time, you may also set pricing and searchability for a set of images in the same step. Select the images to which you want to assign prices (click here for the full pricing tutorial), and when you're done organizing pricing, be sure to check "Also make images searchable" (in the lower left-hand corner of the window) before clicking "Submit."
Please reference this chart to make sure you have the correct settings applied to your images for the desired search results (this applies to search engines like Google or Bing):
Note: For the chart above, keep in mind that if your galleries have a visibility setting of "Those with Permission" or "No One But Me," marking images as Searchable will allow those images to be Indexed by Google and other search engines.
Searching within Galleries or Collections
If you have clients that have private gallery or collection access, and you want only those who have access to be able to search their galleries and collections, you do not need to mark the images as Searchable. Our responsive templates give you the option of turning on gallery and collection search boxes in the Archive side of your site.
This means when your clients access the gallery or collection they want to search in, they will be able to search within the gallery or collection without making the images publicly searchable to public search engines or even your site's main search engine.
To turn these options on for your entire archive:
1. In your Admin area, click on "Website"> "Archive Page Settings."
2. Click the link for "Gallery Display" or "Gallery Collection Display," depending on which you want to enable search for. If you are enabling the collection search, it is recommended that you also turn on the gallery search.
3. Check the box next to "Search Gallery Box" or "Search Collection Box" depending on the page you chose in Step 2.

4. Click "Save Settings." This will apply the box to all galleries or all collections in the Archive. Anyone with access to the gallery or collection will be able to search within it.