You'll note that the Left Pane of the Image Browser is split into two tabbed sections: Listed on Website and Unlisted on Website.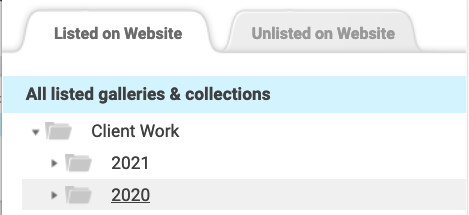 Listed on Website
Any galleries and collections that appear in this section will be listed in the archive section on your public website. This means that any visitor to your website will be able to see links to any of these items, but their ability to view the contents will be restricted by the visibility you designate.

Unlisted on Website
Unlisted galleries and collections are only accessible to others if you explicitly send them the URL (either by using the Image Browser's email notification tool or by copying and pasting a link into a separate email that you send directly). In other words, unlisted items will appear nowhere on your website.
Just because someone has the link, however, doesn't necessarily mean that they can freely enter, as the visibility to this gallery or collection (in other words, what happens when they click the link) still applies. For example, you can have an unlisted gallery that still requires a password when clicked; you can also have an unlisted collection whose contents are visible to anyone to whom you send the link.
If you prefer to upload to a private archive section first and create web-ready galleries later, we suggest that your archive holding area be stored within the unlisted section. This way, you'll have a desktop-like folder structure that no one but you can access or even see, and from this base set of images you can create different galleries for sharing and displaying.

Choosing Where your Content Lives
Before you create a gallery you'll always need to choose if it's Listed or Unlisted. This can be changed at any time.
1. Before creating a new collection or gallery, decide whether you want it to be Listed or Unlisted. Then, select that tab in the Left Pane. (Or, you may select an existing collection and create your new collection or gallery within it.) Click the Create a new gallery button, or the Create a new collection button in the Left Pane.
2. Follow the steps for creating a gallery or collection.
3. Once a gallery or collection has been created, you may easily change its status from Listed to Unlisted at any time. You may simply choose to drag-and-drop the gallery or collection into the desired section. (Before releasing, be sure your mouse hovers over the words of the section you want to drop it into: Listed on Website or Unlisted on Website.) You may also choose to use the Make unlisted/listed with the +/-> menu in the Right Pane for single items, and in batch via the Actions drop-down menu in the Center Pane.
For more on how content is viewed from your website, including details on how to hide individual images (as opposed to entire galleries or collections), check out our detailed Gallery/Collection Visibility: Who Can View Your Images? tutorial.