Pricing Profiles allow you to set your prices for each type of print, product, download or license that you wish to sell. They can be applied to an entire gallery, selected photos within a gallery, or to a single image. If you're not sure which type of profile is best for you, read more about them here:
You can have an unlimited number of Pricing Profiles, but you'll need to set up different profiles for each type of Pricing Profile you'd like to sell. And, should you ever make an adjustment to a price or change a licensing parameter in your profile, images with the profile applied to them will automatically update with the new pricing.
To set up your Pricing Profiles, follow the steps as indicated below.
Creating Pricing Profiles
1. In the Navigation Bar, select "Sell" > "Pricing Profiles."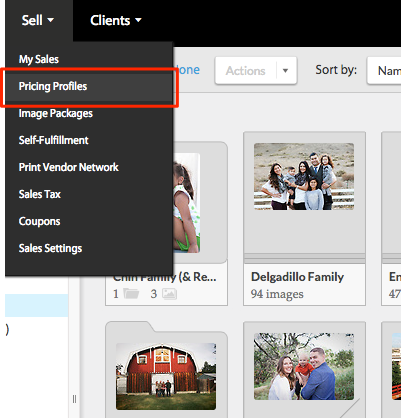 2. Click the "Add Profile" button.
3. In the pop-up window that appears, choose the type of Pricing Profile you'd like to create.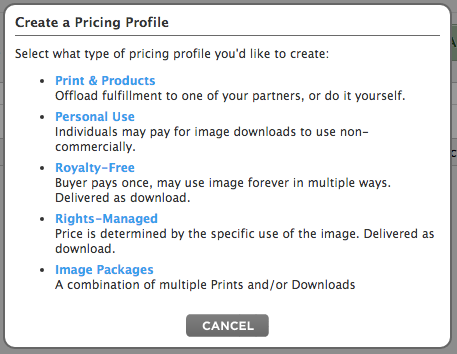 4. When creating a new Pricing Profile, you'll need to choose a profile name. This name is for your own internal use, so feel free to be descriptive or keep it simple. The internal description and public description fields are optional. After that, each profile type has its own specific fields that you will be prompted to fill out. For specific details on each Pricing Profile type, check out our tutorials at the top of this page.
NOTE: Rights-managed and royalty-free licenses are conflicting license types and cannot be applied to the same image. However, you can apply a Personal-Use Download Pricing Profile to any images assigned a Rights-Managed or Royalty-Free Pricing Profile.