Discounting your buyers
Coupons give you a way to offer discounts on prints and products to clients and buyers. Coupons are specific to a user, so there's no chance of a customer using a different photographer's coupon code to buy your images.
In PhotoShelter, coupons can be set up to offer either:
A dollar amount discount

A percentage discount
Any coupon that you create is valid for prints, products, personal-use, royalty-free, and rights-managed sales. At the moment, there is no way to restrict the coupon to a single profile type. 
Check out these 10 tips for using coupons to market your photography on The PhotoShelter Blog.
Creating a Coupon
1. Select Sell > Coupons from the Navigation Bar. 
2. On this page, click the Add Coupon button in the upper right.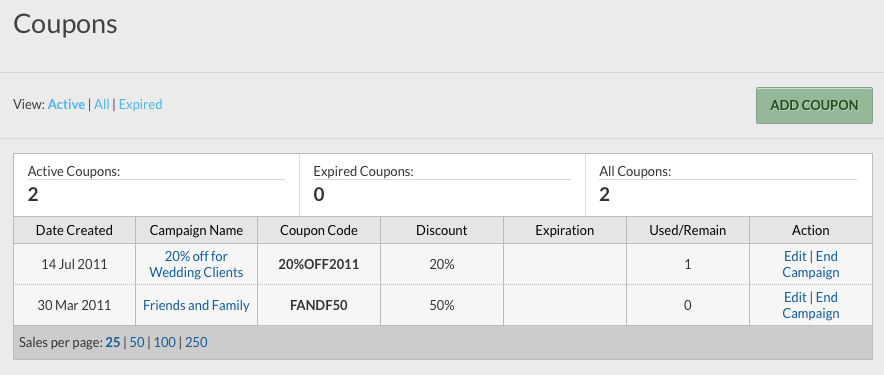 3. On the Create Coupon page, you will need to fill out the following:
Campaign Name

Name your campaign with something descriptive (e.g. Winter print sale). This is for internal use only and will not be displayed to buyers.

Coupon Code

The coupon code is what you'll give to your customers. It can contain letters and numbers but no spaces - an example might be NEWYEARS12. Note that you cannot change this code once you save the coupon, and coupon codes must be unique.

Description

Optionally describe the coupon for your internal use.

Expiration Date

You can optionally set a date at which your coupon expires. If you have a set of clients that always get a certain discount, you can set up a code with no expiration -- otherwise, we suggest setting one.

Discount

The coupon discount has to be either a dollar amount or a percentage discount. Click the button next to your preference and then specify either the dollar or percentage amount.

Minimum purchase amount

If you have a dollar-based discount, you might want to enforce a minimum purchase amount. Note that PhotoShelter will not permit a buyer to check out with a coupon that exceeds the value of their cart order. If you don't want to specify a minimum purchase amount, then leave this field blank.

Max uses per person

Use this to restrict the number of times a coupon can be used by a discrete email address. If you don't want to specify a max use per person, then leave this field blank.

Max total uses

In this field you may restrict the total number of coupon uses across all buyers. You could use this field to create the notion of scarcity (e.g. "coupon valid for the first 100 users only!"). If you don't want to specify a max total use, then leave this field blank.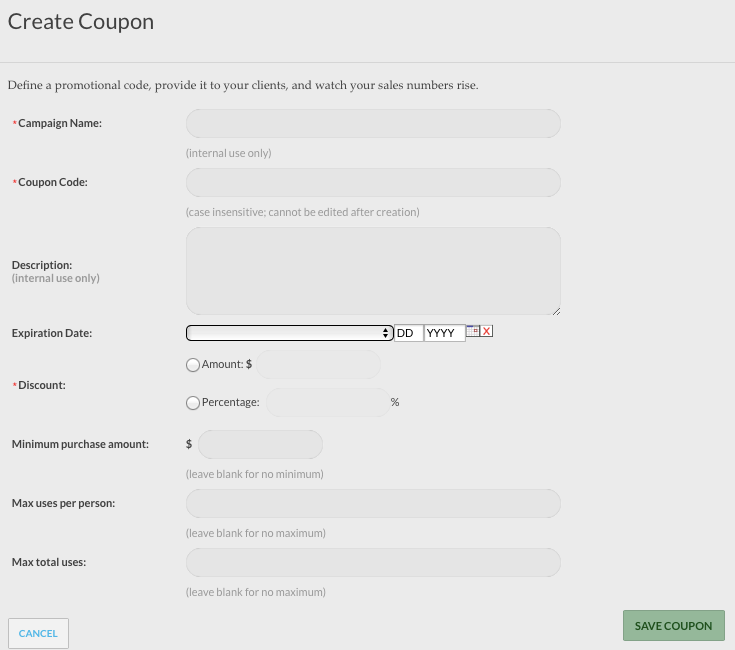 4. When you've made your selections, click the blue Save Coupon button.  
5. Back on the Coupon page, you'll see a list of your active (unexpired) coupons. You can use the links in the upper left to filter your coupons by Active, All, or Expired.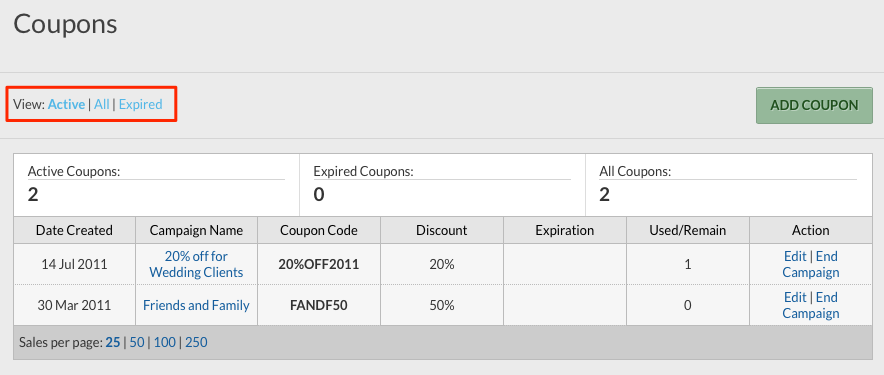 6. Click the Campaign Name to see its details and the users who have used it. You can also click the Edit link next to any campaign to edit the coupon's details.
Note: Clicking the End Campaign link automatically sets the expiration date in the past. This immediately invalidates the coupon, and moves it to the Expired list. This is how you should "delete" a coupon.
Alternatively, if you want to revive a specific coupon campaign after it has expired, you can set the expiration date to any date the future and the coupon will be valid again. 
What Your Buyers See
When a buyer begins the checkout process from your website's shopping cart, he or she will have the opportunity to enter a coupon code, which is located in the lower left. If the coupon is valid, the discount amount will appear as a line item to the buyer.

If your buyer takes an action that prompts an error, he or she may see one of the following messages:
"Coupon code invalid. Please try another code."

Buyer enters unrecognized code.

"Sorry! The coupon code you have entered has expired."

Buyer enters expired code.

"Sorry! This coupon is only valid on orders of $X or more."

Buyer's order total is less than the coupon code's minimum.

"You may not use a coupon that is worth more than your order total."

Buyer enters a coupon code that has a value that exceeds the cart amount.