Our website templates have two main sections that showcase your photos: the portfolio and the archive. The portfolio is intended to feature a curated selection of some of your best work. The archive will hold your larger body of work and includes anything that's in the "listed on website" tab of your Image Browser.
The default portfolio setting for our templates is to feature "recently updated galleries." This will pull an automated feed of galleries from your Image Browser based on what's been most recently updated. To have a bit more control over the featured galleries as well as the order in which they appear, you can adjust the content source to "specific galleries."
When setting your content source, note that only the first 250 images in a gallery will display in the portfolio. To accommodate this limit, we recommend that you custom sort galleries with over 250 images to ensure that your best work displays on your portfolio.
Here are the steps to do that:
1. Navigate to "website" and click the "Enter Site Builder" button.
2. In the Site Builder, click the blue edit icon that says "featured work" or "featured galleries" when you hover over it. If you're using the Downtown or Promenade template, you'll need to click through to the portfolio page to find this icon. If you're using the Sonnet template, you'll need to click on the three horizontal line menu button to find this blue icon.
3. On the left, click the dropdown menu under "content source" and select "specific galleries." If you're using Element or Marquee, this will say "specific galleries/collections."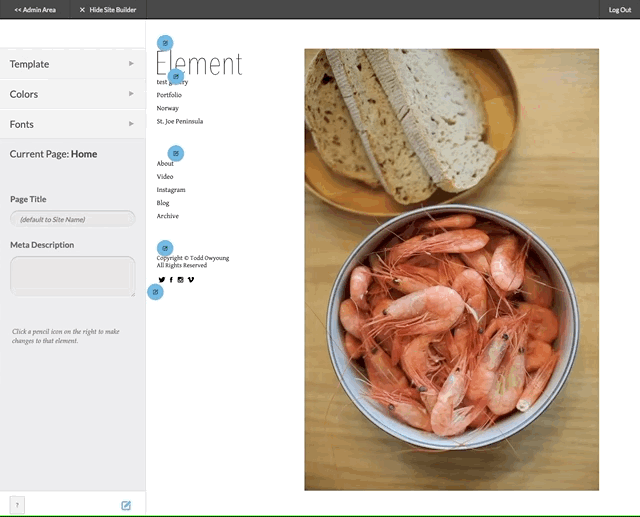 4. Click the "+gallery" button (or "+collection/gallery button if you're using Element or Marquee) and choose "existing gallery" (or "existing collection/gallery").
5. You should then receive a window where you can navigate through your account to select your desired work. This window will mirror the structure you have set up in your Image Browser.
6. Repeat steps 4 and 5 until you've added all of the galleries you'd like to feature.
7. In the left pane, you can drag and drop the galleries into your preferred order.
8. When you're done, click the green "Save" button.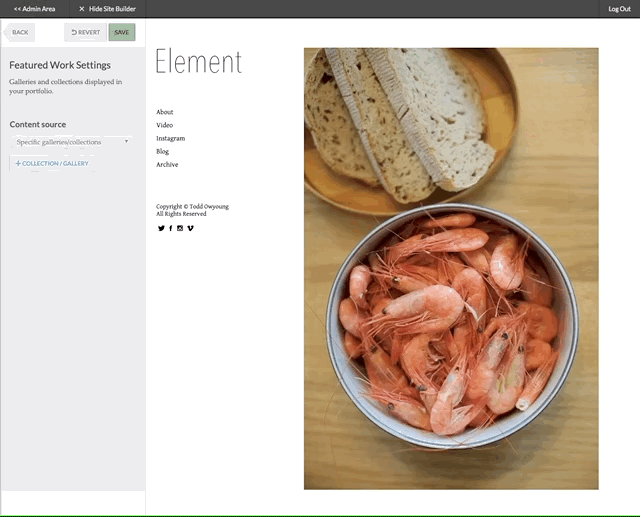 Featuring Collections
Currently, only the Element and Marquee templates support featuring collections in the portfolio. With both of these templates, you can feature collections with one level of nesting. In other words, you can feature collections with nested galleries, but you cannot feature collections that have sub-collections and then galleries in each sub-collection. For a deeper nested structure, you can use the archive side of the site. All of our templates support as much nesting as you'd like in the archive.
In the Element template, clicking on a featured collection will drop down to show the nested galleries: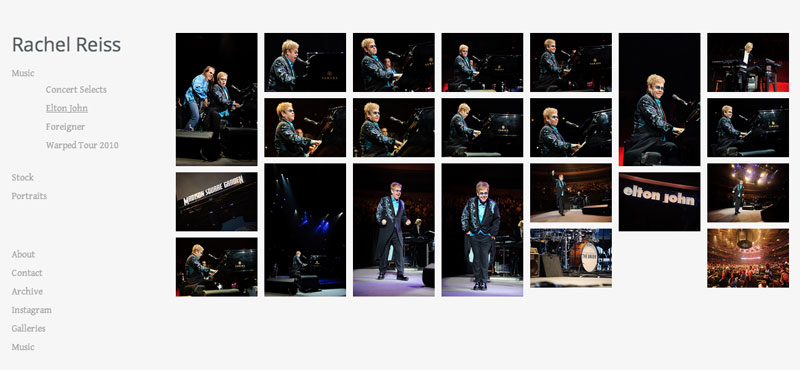 In the Marquee template, clicking on a featured collection will swipe open to show your nested galleries in a filmstrip format: